Article
ArtBeat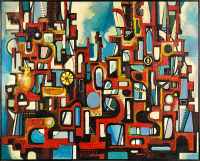 Artist Don McAra has sustained his practice as a professional artist for close to four decades, working predominantly in Aotearoa, but also in Europe, maintaining a commitment to the landscape, celebrating and on occasions, questioning the nature of our relationships with the land.
McAra studied at the School of Art in Dunedin in the late 1950s, tutored initially by artist and educator, H. V. Millar, (1907 – 1986), influenced by the example of Millar's background as an early regionalist painter in the 1930s. In addition, McAra's further tuition in life studies with artist Doris Lusk (1916 – 1990), equally influenced his practice and remains evident in even recent works through his concern with formal and abstract issues around colour, space and composition.
A senior lecturer at the Christchurch College of Education until 1986, his practice as serious artist during this period also saw him working between figuration and abstraction. In the mid-1960s in particular, colourful geometric abstract works by McAra were of central interest and concern to his painting and its consideration of the relationships between form and space on the picture plane in often colourful mixed-media works.
Predominantly recognised for his direct engagement with the Canterbury landscape over the past three decades, these paintings are as informed as much by the light as their subjects as they are with thematic concerns. In recent paintings by McAra that include Storm Troopers, the outwardly dramatic and theatrical lighting that animates its four storage towers and their location in an expansive, open-ended paddock, seems both familiar and enigmatic, his accurate document of the land equally concerned with the nature of our sense of assumed ownership, belonging and wider responsibilities for its future.

IMAGES
1. Don McAra, Storm Troopers, oil on canvas, 700 x 595mm
2. Don McAra, Untitled - Abstract Form, c. 1965, oil on canvas
Represented by Windsor Gallery, 386 St Asaph St