Article
ArtBeat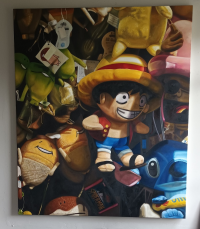 Photorealist David Woodings is Aotearoa's most visible and significant photorealist painter. Influenced by an international art movement that has its origins in the early 1970s in the United States, why was it such an important influence on Woodings? Warren Feeney interviewed him about his practice and January 2023 exhibition at Chambers Gallery.
Warren Feeney: People are always impressed by the skillfulness of photorealist paintings, but as an artist, is there a frustration that audiences may miss the layered narratives of such works?
David Woodings: I still remember seeing the Photorealism exhibition that came to New Zealand in 1974, not realising that four years later I would exhibit work in a show titled Four photo-realists at Peter Webbs in Auckland. So it has been a lifetime of 'commitment' as you term it. Many, maybe even most, photorealists have a commitment to their images without an underlying narrative, and I guess that's a distinction in my work. I have always thought of art at least being suggestive of a thought or narrative. My works follow a theme and exhibitions are almost the conclusion point of that theme.
Audiences tend to be captured more by the photographic immediacy of a realist image, and I often wonder if this is a state of contemporary society where time is treasured and the notion of commitment to a long, complicated, time-consuming art project is overwhelming in a world of sound-bites and news programmes which sometimes can cover five stories and three sports results in 75 seconds. Entertainment is brief and often, even with art viewers there can be less time spent considering its depth. Is it a concern? No. I'm not terribly interested in changing minds and the works are not sanctimonious visual statements, just visual observations within a world of messages.
WF: Can you describe the process of your work, the layering of paint and evolution of the image as a work in progress.
DW: There was a time in my earlier career when the image selected to work from was, indeed, the final image. Little if any modification, after all the notion of being a photorealist was to reproduce a photographic image, right? The 'process' came under strong scrutiny regularly as I began saying that I knew what the image would look like when I started, my challenge reduced to my ability to blend colours and literally apply shape and form to create, not a 3-dimensional representation but a 2-dimensional representation of a 2-dimensional reference.
The photorealist works I have produced in the last decade differ in a variety of ways. Whilst the works take their photographic reference from images I have taken, I endeavour to manipulate elements of the images for subject and compositional purposes. The final works 'remain' photorealistic without necessarily being photographic. Technically there is a process of under-painting a number of layers to establish 'better' composition and depths of colours as the final work evolves.
WF; Can you background the new works for your Chambers' exhibition. Grotteschi and the connections to medieval European art. What is the content for such traditions in 2022?
DW: I have become much more interested in mastery process and over the years have taken a lot of references to technique and materials from the early masters. The 'Grotteschi works' are very much as signaled, an image-grab of the [human] species amusing itself to death, very medieval in the sense of work being a cautionary tale. I have little interest in making connections through these works to New Zealand art, apart from the fact that I practice my art here and producing a world view through them.
WF: Are there other artists that you see your work associated with, and which local artists do you respect within contemporary arts practice in Aotearoa?
DW: I am encouraged by those artists who have works connected visually with the photorealist oeuvre in NZ over the last 20 years. They remain a very small part of the national collective. Louis Meisel, whose New York gallery was at the forefront of the Photorealist movement in his publications, dovetailed the movement within a certain period, and even I am a latecomer to the style. As a 'somewhat' reclusive artist who hasn't read an art magazine for well over a decade I am resigned to making my own path.
DETAILS
David Woodings
Chambers Gallery
18 January - 4 February
IMAGES
David Woodings, Grotteschi for brethren of the common life 1, 2022, oil on canvas
David Woodings, Grotteschi for brethren of the common life 2,2022, oil on canvas