Article
ArtBeat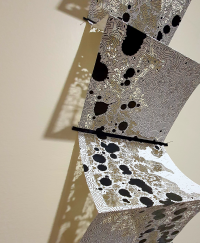 Ara Institute of Canterbury is the largest vocational institute in Te Waipounamu and also home to one of the region's most significant art collections with a particularly strong representation of the region's art heritage, encompassing more than 700 historical and contemporary works of art displayed and installed over six campuses in Ōtautahi, Timaru and Ashburton.
The collection is well-represented by the work of Canterbury artists, Alumni, Academic staff, and Māori and Pacific works. Artists represented include Euan Macleod, Kaza Nakagawa, Evelyn Page , Fiona Pardington, Philip Trusttum , Margaret Stoddart, , Cliff Whiting, Robin White and Wayne Youle.
Displayed throughout various faculties on Ara's campus, the collection has a strong visible presence, yet it remains largely unfamiliar to the wider community. Ara's curator Julie Humby and education developer, Alan Hoskins have put together a survey exhibition, Curate Me, which sees Ara's collection reach out to the public. It features the exhibition of selected collection works beside new works made in response by 3rd year and postgraduate students, alumni and current staff.
For Curate Me, participants were given the opportunity to select a single work from a shortlist of fifty in the collection, responding with their own new work The intention, to encourage participation and conversations with the collection, from all of Ara's faculties, seeking a diversity of students and disciplines; visual, three-dimensional, fashion, drawing and/or performative in nature.
Opening at PGgallery192 and scheduled throughout September, the exhibition's curation also highlights Ara's Bachelor of Design learning programmes and the organisations wider infrastructure for teaching and learning, research and community engagement. The exhibition's fundamental principle of arts practice, acknowledging the importance of the artist's model, whereby the practice of all artists is founded within a global history of art and the historical and contemporary example of specific cultures, communities and the work of artists that have preceded them, is well represented by the collection, and is evident in Curate Me's new works
Curate Me also possesses a life outside and beyond that of the gallery exhibition. An app accompanies Curate Me, offering those who download it from its QR Code on their smartphones the opportunity to engage further with the artwork. All the works will be labelled and a QR code added, and although those from Ara's collection are predominantly paintings, Humby described the responses as also encompassing; written, moving image, or recorded music, dance, or spoken word, which can all be accessed through the mobile app: ActionBound.
Humby maintains that this will further public engagement: 'Artists and viewers may leave messages for each other in the form of video, audio, image and text. The app offers an active, alternative and focused viewing of an exhibition away from the historical and familiar cultural narratives of the exhibition space, where visitors can gain new perspectives on the ever changing world of the exhibition'.
DETAILS
Curate Me, PG gallery 192, 192 Bealey Avenue, Christchurch
21 September – 8 October 2021
IMAGES
Cora Wilding,

Mount Egmont, 1930, oil on canvas, Ara Institute of Canterbury Collection.
Wayne Youle, Navigation, 2008, screenprint, Ara Institute of Canterbury Collection