Article
ArtBeat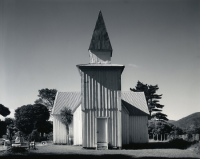 Opening in a new and expansive refurbished gallery space in Wynn Williams House, Hereford Street in August 2019, (close to the Arts Centre, Matatiki Toi Ora and Christchurch Art Gallery Te Puna o Waiwhetū), NMG continues to maintain its impressive exhibition programme of contemporary New Zealand Art.
Culture Catch is a group exhibition scheduled from December to early February, bringing together the work of four artists, working in different mediums, considering and responding as both participant and observer to the recording and documentation of culture in which the land, (and the evidence of our interactions and relationships with it), assumes an inescapable presence.
Laurence Aberhart has been at the forefront of photography in Aotearoa since the late 1970s, refining his craft in photographs that mediate on time, place and cultural history, encouraging those who encounter his images to do the same. Shane Cotton exhibits a large black pot embellished in a rich and layered iconography, affirming Tūrangawaewae and an implicit and empowering relationship with the land as 'a place to stand.' Mark Mitchell's ceramics vessels share this spirit, their woven geometric patterns and glazes, seemingly meandering and inviting comparison with streams, rivers and the myriad of networks of the natural world.
Matthew McIntrye- Wilson exhibits two gigantic hand-woven flaxen fishing nets, connected intimately to Māori traditions and histories, as well as the 'newness' of such traditions, skills, and intellect in the context of the contemporary art gallery in the 21st century.
Culture Catch, works by Shane Cotton, Laurence Aberhart, Mark Mitchell and Matthew McIntrye-Wilson. Wynn Williams House, 47 Hereford St, Christchurch Tue-Sat 10 – 5pm,
6 December – 6 February
IMAGE
1. Laurence Aberhart, Anglican Church, Pawarenga Peninsula, Whangape Harbour, Northland, 10 May 1982. [silver gelatin, gold and selenium toned. 1982.]