CoCA and Our Built Environment- Look left if you normally look right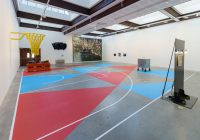 Toro Whakaara: Responses to our Built Environment feels like an important milestone for CoCA and Objectspace, an exhibition simultaneously opening in both Ōtautahi andTāmaki Makaurau with ten artists divided into two groups of five. HOOPLA, Isobel Thom, Lindsay Yee, Ngahuia Harrison and Raphaela Rose are in Tāmaki Makaurau and ĀKAU, Edith Amituanai, Kirsty Lillico, Sione Faletau and Wayne Youle in Ōtautahi.
Director of CoCA and Objectspace, Kim Paton, emphasises that Toro Whakaara has been conceived as one show and that initially there was no decision around which artists would be represented in each venue. She also notes that it is the biggest and one-of –its-kind exhibitions that Objectspace has ever worked on.
'The approach to its development has involved a more collaborative attitude with artists, including a wānanga at Objectspace in early 2021, which saw all ten practitioners together. It began with each artist presenting on their work with feedback from other practitioners. There were lots of back and forth discussions but some bearings emerged and we thought that some artists would be best engaged from either venue and everything followed from that.'
Paton said that after multiple delays in the exhibition's realisation due to Covid, it has been terrific to realise this project which aims to consider the potential or architecture and design from an exhibition making perspective. 'We do not have a great legacy of showing this kind of work in galleries. Architecture is not a practice that is understood that well and it has been rarefied in Aotearoa for the small percentage of people who can afford it. But we all engage with public buildings and the urban environment. We have a very passive relationship with how design affects us and that was the aspiration we could pull ideas out from.'
'We began research for the exhibition exploring the notion of hostile architecture or defensive design, urban planning strategies designed to deter certain types of behaviour. Obvious interventions include skateboard spikes or a park bench that is designed so a user cannot lie down. The idea of using this as a starting point was a consideration of how well the built environment cares for its citizens. We encounter experiences every day that can be considered from this lens. If our experience walking across a park or down a street feels abrasive, unsafe or unwelcoming, then your intuition is telling you something about its design.'
Canterbury-based artist Wayne Youle (Ngāpuhi/pakeha) is represented by Here Today, Gone Tomorrow and Back Again the Day After That, a new work about bollards and his memories when the rebuild of the city started. 'I'm interested in the role of these barriers – is it to keep us safe, or to protect whatever is on the other side?' (For complete interviews see the exhibition's newspaper/catalogue - details below)
New Zealand Samoan photographer Edith Amituanai's work for Toro Whakaara continues her two-decades long work, documenting her own community of Rānui in West Auckland. Sites and human activity that occur at the intersection of public and private spaces feature heavily. She maintains that through her images she tries to build up a complicated picture of a space. 'I'm approaching this image-making by looking at it from lots of different perspectives – between those who have power and those who do not.'
Te Whanganui-a-Tara Wellington-based Kirsty Lillico's Big Love is one of her two installations in CoCA's Ō Raki North Gallery. Big Love continues Lillico's research and interest in modernist architecture. She uses floor plans taken from the contentious Gordon Wilson Memorial Apartments building in central Wellington, abstracting their geometry into cut carpet wall hangings. Her colour scheme is inspired by the cult films Suspiria, 1977 and A Clockwork Orange, 1971. She says she is also interest in the way 'modern architecture has been stigmatised in part through its inclusion as a backdrop in dystopian works of fiction. My first experience of hostile architecture probably occurred while growing up in the Hutt Valley. The Upper Hutt city Council chambers, town hall, library and Central Institute of Technology.'

An interdisciplinary artist of Tongan Heritage, Sione Faletau's Toro Whakaara, began with his memory of Fatu Feu'u's Tatutai Matagofie works of local landmarks, the Manukau Harbour and Aotearoa's worst maritime disaster, the Orpheus shipwreck and 'the harshness of the moana.' He comments: 'I was introduced to the idea of hostile architecture through working on this exhibition and now I understand this concept, it's been hard not to see it everywhere. I've been thinking most specifically about an old brick stop. We used to shelter in the bus stop on the way to school, it was warm and cosy and we could hide in there as it blocked off the elements.'
Based in Te Tai Tokerau and Tāmaki Makaurau, the architecture and design collective ĀKAU bring a real-world element to their project for CoCA, restaging a basketball court design that was realised in Kaikohe in 2019. They state: 'We use a creative process to help conceptualise ideas, needs and aspirations with whānau for community projects.... design is contextual and an authentic response to local culture and surroundings.'
Paton describes ĀKAU's project as 'great work in real life, that when restaged in a gallery context allows us to consider the power and potential of its design. It is about seeing things in new ways. Our ambition is that when people leave CoCA they look left when they may have normally been looking right.'
DETAILS
ĀKAU, Edith Amituanai, Kirsty Lillico, Sione Faletau and Wayne Youle
Toro Whakaara: Responses to our built environment
CoCA Toi Moroki
66 Gloucester Street, Christchurch Central
26 October 2021 - 05 February 2022
Newspaper/catalogue, ToroWhakaara: Responses to our Built Environment. Presented by Architectus
IMAGE
Toro Whakaara: Responses to our built environment,installation, CoCA. From left: Work by ĀKAU, Wayne Youle, Edith Amituanai and Sione Faletau. Photograph: John Collie