Blog
ArtBeat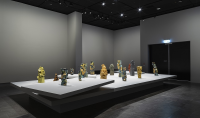 The Christchurch Art Gallery Te Puna o Waiwhetū maintains its impressive commitment to Ōtautahi-Christchurch and Waitaha-Canterbury's artists with a survey exhibition of four decades of work by Cheryl Lucas.
As ceramicist, potter, crafts-person, sculptor and installation-artist, Lucas' arts practice is difficult to narrow down to a brief description due to the many reasons for the extended list of categories that her work is perceived to represent. Lucas' art's is connected to, and in-between, all given categories. Yet, there are numerous unifying ideas and principles. In the first instance, the subjects of her work and response to contemporary issues of significance reach into the lives of residents in Ōtautahi. (Certainly, a highlight for many visitors to Cheryl Lucas: Shaped by Schist and Scoria will be the re-installation of her post-quake, Royal Muntin Ware Ref. No. 6.3/2011, 2011–12.)
In conceiving and making her work Lucas has sustained a nuanced approach to its realisation through an attitude that could be described as compulsive, developing a series of works that are two-dimensions (possibly works on paper), then realised in three-dimensions (in clay and installations) and then back into two-dimensions. She maintains: 'I have always been interested in that 2nd to 3rd and then back to 2nd again. It is obsessive and that is what has got me going.'
In considering this shift from and between three-dimensional and two-dimensional form she acknowledges the influence of a touring exhibition of ceramics at the Robert McDougall Art Gallery in 1981, Image and Idea: A View of Contemporary Ceramics in Britain. 'It was the marriage of form and surface in the works that interested me, and specifically the work of British studio potters, Elizabeth Fritsch and Alison Britton. I wanted the surface of the work to happen because of the form of the object, decoration was not important to their work, it was something superficial.'
As a survey exhibition, Cheryl Lucas: Shaped by Schist and Scoria has allowed her, as an artist who began working with clay in 1983, to revisit earlier work and equally to be able to realise a new series of 16 works that further serve as the subjects of a new installation, Subterfuge.
Looking back on her early exhibitions and installations she recalls; 'you could see in those early shows that my work was all over the place', yet among this grouping of earlier works and installations she singles out, Jug-Skin Fence, from her solo exhibition, Dip Paddock at the Campbell Grant Gallery in 2008, a work that is reviewed and reworked as Skin Fence, for the current survey exhibition.
'That was two years after I had been teaching and two years in China, its people at that time were breaking away from thousands of years of traditions of making pottery. In New Zealand we only had 200 years of history and it made me think about what it is that makes our pottery "Kiwi." We have no precedent in ceramics, at least not in terms of the abstract vessel and that is something I really felt deeply. Instead of making stand-alone vessels of single ideas I made installations such as Dip, 2008, a work directly related to rural New Zealand. The dip paddock refers to the paddock where farm stock are drenched.'
Jug-Skin Fence was an important work in both its engagement with the materials of the potter and possessing a close connection and association with sculpture and installation art. As political as it was aesthetic, the detail of its 72 jugs, collapsed and hung out to dry as deflated, malformed objects, (alluding to an opinion about the state of the country's dairy farming) denied their practical function as vessels/containers. In its current incarnation as Skin Fence, our attention is centred upon the material presence of the work as a suspended series of objects, beautiful and anxious in their surfaces and form.
'With the making of the Subterfuge works I tried not to think too hard., I was searching for a randomness of things similar to the divaricating plant structures common to Aotearoa New Zealand. The off centre, irregular branched angles of the growth structure, creating not only a dense protective fork, but this also fulfilling a traditional compositional device to create a sense of movement by shifting everything just off the median. At the end of each day I took photographs of the work in progress, to contemplate and further understand where I would with it next. Once upon a time I would start with a drawing but the nature of this work is about making something happen from the material influencing the form, a resolution of form wasn't going to happen doing a preparatory drawing. '
Lucas acknowledges that being the recipient of the 2019 Creative New Zealand Craft/Object Fellowship was significant in the realisation of Shaped by Schist and Scoria, the invitation for its curation and delivery from the Christchurch Art Gallery providing the necessary outcomes that fell into place for her to make two new bodies of works under the terms of the Fellowship. 'The exhibition is part of that Award. Up to its opening I have been working on it 70 hours a week. I redid those two earlier works, Skin Fence and Harder Larder and this meant that I did Subterfuge in a short space of time. The staff at the Gallery called at my studio to collect the works as they were finished. It wasn't until two weeks before my show that I got to see all the pieces together as a group. While I have been I was finishing about three pieces a week and the staff at the Gallery were picking them up that day. While I have been very grateful to have been the Awared's recipient, applying for it involved a lot of work, as does meeting the Award's obligations and finally reporting back to Creative New Zealand. I was surprised that the final report is not officially acknowledged by CNZ but no doubt if it failed to turn up there would be a consequence.'
Lucas' commentary on CNZ's administration and the further support from the central government agency's for crafts practice is certainly open to questions, following its recent September announcement of the cancellation of both its Craft Object Fellowship Award and the former Blumhardt/CNZ Curatorial Internship. Now somewhat timely in its irony, CNZ's Chief Executive Stephen Wainwright's earlier announcement on the confirmation of Lucas as the recipient of the Fellowship in 2019, was his recognition of the 'great value in supporting well-respected practitioners like Cheryl, to push their practice to the very edge of possibility.'
It is equally difficult not to see Wainwright's recent CNZ blog in June as anticipating current circumstances. He somewhat informally and inappropriately announces: 'CNZ will have less to invest… than we did in the last few years… we're pretty tired, but we're doing our best… it is very challenging to make significant changes to investment in culture, [it] is on the budgetary margins.'
Certainly, the message from Wainwright is that financial cuts from central government are pending,: 'We're finding a very challenging gap between our aspirations for the arts and the public resources we have available to do the job.' So with the opening of a major survey of contemporary art that signposts and reveals the tangible potential of ceramics, pottery, sculpture and installation-art as a singular magnificent creature, why is craft practice seemingly the first target in CNZ's sight?
DETAILS
Cheryl Lucas: Shaped by Schist and Scoria
Christchurch Art Gallery Te Puna o Waiwhetū
Cnr Worcester Boulevard and Montreal Street
27 August – 4 December
IMAGES
Cheryl Lucas, Royal Muntin Ware Ref. No. 6.3/2011-12, Ceramic Collection of Christchurch Art Gallery Te Puna o Waiwhetū, photograph: John Collie, (Christchurch Art Gallery)
Installation view of Subterfuge by Cheryl Lucas, Christchurch Art Gallery Te Puna o Waiwhetū, 2022. Image: John Collie.