Article
ArtBeat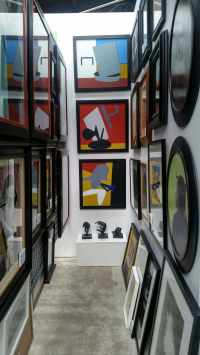 Opening in July 2011, Chambers Gallery and studios was among a cluster of new galleries in the immediate post-quake period. In 2021 it is only one of two from that time (Art Hole at 336 St Asaph Street the other, originally opening as Room Four) prioritising the exhibition of work by local emerging artists.
Artists currently leasing Chambers' six studios are moving with the gallery and co-founder Ron Mottram maintains that this is central to the gallery's shift. 'We felt that the studios were so much part of Chambers that we wanted the artists to come as well. It has been a sort of symbiotic thing. They have made sales through the gallery and we have benefited from that and the studios are also a draw card. People come into Chambers because there is that extra side to it. It is not just a gallery.'
Mottram acknowledges that Chambers was fortunate to find 80 Durham Street (corner of Sandyford and Durham streets) in Sydenham, an ample site and space with two showrooms and an adjoining workshop in the back, the gallery space being similar to 241 Moorhouse Avenue but a little larger. 'Artists' studio in Christchurch remains problematic in 2021. It is still almost impossible for an artist to get an affordable studio. High rents are happening all around the central city. I spent four months looking for these new premises.'
Artists moving to the new studios are Kara Burrowes, Edwards + Johann, Jason Greig, Ross Gray and Paddy Ryan and the new premises will also have space for framing services. Gallery manager Julie Williams says that the studios will be open to the public. Although she has their work on the gallery's walls, people often haven't been into the studios which will now serve as a selling space and the artists are happy about that.
Chambers opening exhibition at 80 Durham Street acknowledges its studio artists. Mottram comments: 'If you think about the people who have been in those studios, it has, for example, also included Simon Edwards, Kristin Hollis, Kim Lowe and Miranda Parkes. It has just been extraordinary.' Williams also adds that they are 'happy to be in Sydenham with its other galleries: City Art Depot, Dilana, the Jonathan Smart Gallery, Fiksate and Form.'
DETAILS
Chambers Gallery, 80 Durham Street, Sydenham
10.30am - 5pm Monday to Friday 10.30am – 5pm, Saturday 11am – 3pm
IMAGE
1. Chambers Gallery new space at 80 Durham Street, Sydenham