Article
ArtBeat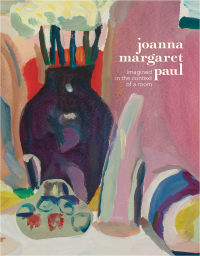 Joanna Margaret Paul: Imagined in the context of a room
Lauren Gutsell, Lucy Hammonds and Greg Donson (Eds)
Dunedin Public Art Gallery 2021, ISBN: 978-0-9941353-7-7, RRP: $65.00
Probably the most exquisite book in this selection – but then I am a shameless Joanna Margaret Paul fan. Beautifully illustrated, accessible, and finally positioning JMP as the major talent we faithful have always known her to be. A valuable adjunct to the touring exhibition put together by the Dunedin Public Art Gallery and Sarjeant. This year's must buy for any serious art library in Aotearoa.
The Architect and the Artists: Hackshaw, McCahon, Dibble
Bridget Hackshaw
Massey University Press 2021, ISBN: 978-0-9951431-1-1, RRP: $65.00
Collaborations between artists and architects in Aotearoa really don't get enough attention, but this is a charming exception. The architect James Hackshaw, founder of The Group architects, produced around twelve uniquely fascinating builds in collaboration with Colin McCahon and sculptor Paul Dibble. Hackshaw and McCahon both shared an interest in Roman Catholic symbolism and Dibble was McCahon's student. Although these projects included schools and private homes, it is the ecclesiastical architecture that stands out as taonga.
Bill Hammond: Across the Evening Sky
Peter Vangioni (Ed)
Christchurch Art Gallery Te Puna o Waiwhetū 2021, ISBN: 978-1-877375-67-5, RRP: $69.99
Bill, not as aloof as he was disinclined to talk to people he didn't want to talk to, will be greatly missed. Christchurch Art Gallery curator Peter Vangioni brings together written contributions from the great and the good who knew him to celebrate one of our most original painters.
Conversātiō: In the Company of Bees
Anne Noble, Zara Stanhope, Anna Brown
Massey University Press 2021, ISBN: 978-0-995140-75-2, RRP: $60.00
For quite some time now leading New Zealand photographer Anne Noble has been obsessed – if that's not too strong a word – with bees. This has resulted in a rich, macroscopic body of work exploring the crises that face these little handmaidens of nature, from colony collapse to climate change. For the first time Conversātiō provides a textual consideration of the ideas embodied in these powerful images that range from tintypes to images taken with an electron microscope and by camera obscura.
Kelcy Taratoa: Who Am I ?... Episode 001
Warren Feeney with te reo Māori translation by Hēni Jacob (Ngāti Raukawa, Ngāti Porou)
Quentin Wilson Publishing 2021, ISBN: 978-0-995132-92-4, RRP: $60.00
An important book contexualising an important artist, Kelcy Taratoa (Ngāi Te Rangi, Ngāti Ranginui, Ngāti Raukawa) in his evolution from street art influences as a kid in Levin to his more recent interest in visual communication, the surveillance state and his engagement with Te Haka a Te Tupere, his wharenui at Rangiwaea marae. Bilingual in English and te reo Māori which is always to be encouraged.
Brokered Dreams: 98 Uses for Vacant Space, Urban Dream Brokerage 2013-2018
Mark Amery (Ed)
Letting Space with Wellington Independent Arts Trust 2021, ISBN: 978-0-473-53243-7, RRP: $30.00
Wellington's Urban Dream Brokerage project is well known for its ambitious negation of vacant spaces and creative needs to promote the growth of diverse artistic communities around the country. This book is the record of those innovative and inspiring projects of the 2010s. Inspiring and human.
Things I Learned At Art School
Megan Dunn
Penguin NZ 2021, ISBN: 9780143774853, RRP: $35.00
If not quite an art book, certainly an art-adjacent book – Dunn will be known to many in Aotearoa's art world, particularly in Wellington. This is a fascinating combination of memoir and essay-like ponderings on growing up and coming of age in New Zealand from the 1970s to the 1990s.It will strike a note with anyone in the art world (or anyone really) from these islands of a certain generation. I can't recommend it highly enough.
Poems: Len Lye
Roger Horrocks (Ed)
Govett-Brewster Art Gallery / Len Lye Centre 2021, ISBN 9781988543123, RRP: $12:00
Great things often come in small (and in this case, perfectly formed) packages. This delightful, exquisitely designed little book for the first time brings together and makes accessible the poems of Len Lye. Lye, perhaps second only to Francis Hodgkins, was one of the most internationally well-known artists New Zealand has produced. While his film and kinetic art is likely to be familiar to many, this contribution reveals another side to Lye's genius.
Fine Line: Twelve Environmental Sculptures Encircle The Earth
Martin Hill and Philippa Jones
Bateman Books 2021, ISBN: 9781988538914, RRP: $70.00
In 1995, Aotearoa-based artists Hill and Jones decided to draw a symbolic line ringing the Earth marked out in twelve temporary environmental art projects in mountain locations in various countries. The line begins and ends in New Zealand with two art projects. This impressive volume documents the entire project in over 200 photographs, multiple essays by experts in art, ecology, design, and climate science and the personal story of two artists' personal 25-year commitment to art and the environment.
An unreliable guidebook to jewellery by Lisa Walker
Lisa Walker
RMIT Design Hub Gallery and Perimeter Distribution, 2021, ISBN: 9781922545039, RRP: $54.00
I'm cheating a bit because this is the second expanded edition of a book first published in 2019. This is a really important book about one of our most interesting makers of conceptual jewellery, Lisa Walker, in her own words. Edited by Kate Rhodes and Nella Themelios, this one is a little trickier to get hold of, but art gallery shops or online is a safe bet. A must have if you are interested in contemporary jewellery and design.

IMAGE
Karina McLeod's design for the cover of Joanna Margaret Paul: Imagined in the context of a room, published by the Dunedin Public Art Gallery