Article
ArtBeat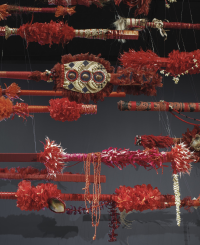 Avaiki (A Place of Remembering) by Nina Oberg Humphries sits within the larger exhibition context of Te Wheke: Pathways Across Oceania—a vivid blue, red and yellow discovery among works from the gallery collection. Avaiki is the last show curated by Nathan Pōhio for Te Puna o Waiwhetū. Across from Avaiki, within Te Wheke, there hangs a striking red and white tivaevae made by Rangi Oberg, Nina's grandmother.

Avaiki consists of a giant god stick, wrapped and bound and resting on a blue perspex plinth; about 25 feather gods suspended above the god stick; a moving image work with audio. I'm familiar with Nina's work, intimately familiar with the blue of the walls and the plinth which I spent hours at a time surrounded by while TA'AI, 2020 was showing at The Physics Room and I was gallery attendant. TA'AI came out of the artist's residency with the Macmillan Brown Centre for Pacific Studies at UC, and I see the influence of the residency in Avaiki as well.

A swaddling feeling; the dim lighting and the deep blue walls. The giant god stick looks restful, swaddled also, waiting within layers of cloth, blankets, tapa. Synthetic and natural, traditional and untraditional—according to whom? Nina has used a number of found-objects and materials. Many of the feather gods have a base that looks like it was originally a chair leg, mini bed-post or stair banister. They are all red with accents of white from glittering beads or feather tips. Harakeke and tī kōuka flaunt their unmodified colour. They hang in a formation, suspended over the resting god stick: is it called a flock? The wall text describes a "fleet." They hang on nylon thread which catches the light in a way that irks me, though I want to like it. It criss-crosses over itself in violent contrast to the softer shapes of the feather gods and the god stick below.

I recognise the story being told in the audio but I don't remember where from, initially. I remember having read it somewhere... but the video sits so comfortably with the audio that I can't imagine them separate and I second-guess myself.

Looking for any clues, I turn to the text on the gallery wall. It has a short description of the body of work underneath the materials list: "Single channel digital video, duration 4 mins— Columnar banisters, tī kōuka leaves, ribbon, twine, rope, plastic flower lei, mother of pearl, beads, automotive paint, fabric, fala, tapa, electric tape, zip ties, shells, embroidery thread, harakeke, polymer clay, cardboard, felt, weed mat, feathers, resin, plastic bags, plastic woven mat, dowel, plastic grape." As lengthy as the 'information' below it, the list indicates the weight of importance given to these materials by the artist, as individual and collective objects.
In Avaiki, Nina tells the story aloud. The video is green, a garden. It's a beautiful prose with strong imagery, though it is not particularly descriptive. I don't want to summarise or quote it: pay a visit before the end of June, spend the full four minutes at least. Stop to see Rangi Oberg's tivaevae on the way.
DETAILS
Te Wheke: Pathways Across Oceania
Christchurch Art Gallery Te Puna o Waiwhetū
Cnr Worcester Blvd and Montreal St
Until 1 May
IMAGE
Nina Oberg Humphries

Avaiki (A Place of Remembering)

, detail, 2021. S ingle-channel digital video, duration 4 mins. Courtesy of the artist