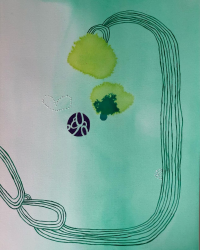 Arts in Oxford Gallery is celebrating Matariki the Māori New Year with Auckland- based and now Oxford's Artist in Residence, Nigel Borell experimenting and evolving a new body of work exploring creation narratives in its main gallery over four weeks.
Borell was Curator Māori Art for Toi Tū Toi Ora: Contemporary Māori Art the largest exhibition in the 132-year history of the Auckland Art Gallery Toi o Tāmaki, featuring over 300 artworks by 110 Māori artists. His role as artist in residence is exciting and gives voice to Arts in Oxford Gallery's commitment to contemporary art in Aotearoa and their capacity to deliver significant outcomes for all in Waitaha Canterbury. Besides making his own artwork during his residency, Borell will facilitate invitational wānanga (workshops) with Māori art practitioners as an opportunity to share mātauranga toi Māori arts knowledge.
Borell's exhibition, Haumanu Hauora is an expression that speaks to health and wellbeing. Haumanu means to revive or restore to health while hauora means to be well, healthy and in good spirits. Together these words represent the simple tenet for the exhibition and residency, an opportunity for the artist to explore ideas about the land, people and cosmological ties to both, told through an evolving painting installation over the duration of the residency in Oxford, Canterbury.
The residency encompasses Matariki- the Maori New Year, which is also a time to reflect on the year that has been and set new goals and horizons for the year ahead. Haumanu Hauora is a positive statement of renewal, regeneration and wellbeing. It prioritises and proposes that our personal health and wellbeing is central in realising future goals and aspirations.
DETAILS
Nigel Borell: Haumanu Hauora
Oxford Gallery Artist in Residence
72 Main Street, Oxford, 7340
24 June - 15 August 2021, opening 3pm Sat 26 June. All Welcome
IMAGE
Nigel Borell, Untitled 1, 2021, acrylic, ink and silk brocade on paper.