Article
ArtBeat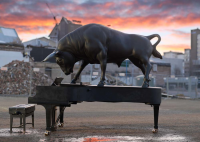 Writer
Jamie Hanton
Ten years on from the earthquakes that devastated Ōtautahi, it's easy to view that period immediately following where creativity flourished amidst adversity and when resources were made available with rose-tinted glasses. In the great majority of cases the creative practitioners involved in those outstanding projects had been involved in the arts prior to the earthquakes and persisted despite incredible challenges.
In the intervening years, however, the day-to-day work of the creative sector has drifted to the back of the collective consciousness. The ability to adapt and work in difficult conditions is innate to the creative sector, it is an attribute sharpened by constantly working in an economically-precarious sector highly susceptible to market pressures that affect costs of production and operation. So while this can be admired, this conditioning is not really something to celebrate or champion.
Artists used to working in difficult conditions, continued to work in even more difficult conditions. New arts, culture, and heritage initiatives were started in response to the situation: Gap Filler, Festa, The Social, and First Thursdays in Sydenham, to name just a handful, rallied to address the loss in the creative ecology. These projects were excellent in and of themselves, but they also gave the city a movement to get behind and be proud of. The Dance-O-Mat, for all of the people who have danced on it, also contributed massively to the wellbeing of those who happen to be passing when in full-swing.
The moment of rupture also allowed the city to redress some of its misplaced colonial authority with a new statutory partnership formed with mana whenua. This has led to the embedding of Ngāi Tahu stories throughout the city centre, in particular along the Ōtākaro, as well as installations and sculpture produced and facilitated by Matapopore.
Artists and arts organisations were able to shape-shift; the Court Theatre moved to Addington, the Christchurch Art Gallery TePuna O Waiwhetū curated a bold Outer Spaces programme around the city. These organisations and many more found opportunities to continue working resourcefully in the city; more recently, Little Andromeda is a prime example of this, as are those in the second-wave of creatives who, in the last six months, have moved to Sydenham including Movement Art Practice, Fiksate and Chambers Art Gallery.
There are individuals and organisations that have enriched the city and continue to enrich the city by providing arts and cultural experiences week after week, however, post-quake there has been an underlying perceptual problem with the way this work is valued. Often, the art is held up as an achievement, while those producing it are overlooked. What can we do to re-capture that celebration—and substantial financial support—of creativity that came with that massive upheaval and loss?
IMAGE
Michael Parekowhai, Chapmans Homer in Madras Street, in the immediate post-quake period, July 2012. Collection of the Christchurch Art Gallery Te Puna o Waiwhetū. Purchased 2013 with the assistance of Christchurch City Council through the Public Art Advisory Group, Christchurch Art Gallery Foundation and Westpac, IAG, Ben and Penny Gough, Chartwell Trust, Ravenscar Trust, Friends of Christchurch Art Gallery, Grant and Sandra Close, Dame Jenny Gibbs, Kevin and Joanna Hickman, Stewart and Nati Kaa, Tony Kerridge, McFadden family, Andrew and Jenny Smith, Chapman Tripp, Colliers, Meadow Mushrooms, MWH Ltd, Pace Project Management, The Press; and with additional thanks for contributions from 1,074 other big-hearted individuals and companies.