News
ArtBeat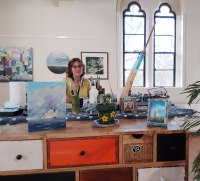 Until February 2011, Maxine Burney had worked from her studio in the Arts Centre for fourteen years. After ten years working from home as the studio space for her paintings, prints and clients, and exhibiting widely; she is back in the Arts Centre. She describes the return as 'a bit of an unscripted new chapter' and she is open to it evolving.
Burney is both a long-standing studio artist and client of the Arts Centre, and the first to return full-time. How did this come about and why the Arts Centre?
'My studios (4 in all) were in the old chemistry building. Post Earthquake I went home to work but since the buildings have begun to reopen [from 2016] I have been in Pūmanawa's gallery space, as an exhibiting artist, six or seven times. (I also had my first Christchurch exhibition 'The Nature of Spirit' in 1997, in the Painter's Gallery, now Pumanawa)
'Working from home suddenly came to an end for me when I realised I didn't want to be working solo anymore. While doing a pop- up working exhibition/gallery stint in March in Pūmanawa, the room next door became vacant. Having to act quickly, and with support from my husband Craig, my dream to return to The Arts Centre, became reality'.
'I am a painter, working from the realistic to abstract with a lot of interpretation, and alongside my original work, I also sell reproductions and cards of my work. I take on commissions, currently happily working on a large garden work with animals and people.
Burney has been working professionally as an artist for more than 30 years. Early studies were in embroidery while in India 1984 and then in London at the Royal school of Needlework 1985; followed by formal studies in NZ learning institutions. Her practice has evolved from embroidery to pastels, acrylics, mixed media and now oils, and working as a portraitist artist - both people and animals!
She has also tutored over 20 years of community classes and on 5th June is tutoring in the Arts Centre's Maker Space, (the former School of Fine Arts Room, bordering Rolleston Avenue). She describes it as 'a creative acrylic painting workshop, mark-making and expressionism from 10-4pm. Easels are on site and it is a class for all'.
'We are very lucky in NZ; and also at The Arts Centre which is reviving and evolving and is also a great place to work. I see myself back here for the long haul. Long term there will be a guest-artist wall in my studio and other artists will be invited to work here'.
DETAILS
Maxine Burney's studio is located: First floor, Boys' High, Worcester Boulevard, The Arts Centre Te Matatiki Toi Ora and her workshop: Creative Acrylic Painting – Mark Making and Expressionism, Makers Workshop, 5 June, 10am – 4pm
IMAGE
Maxine Burney in her Arts Centre studio