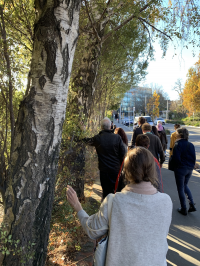 Artist-in-residence at The Arts Centre Te Matatiki Toi Ora, Jo Burzynska, is concluding her residency with an exhibition, What might we find when we stop looking?, providing a context for her research and key aspects of her fieldtrips through the central city of Ōtautahi Christchurch from May to July. Recording sounds, and foraging wild plants for their flavours, textures and aromas from the environments that we inhabit, Burzynska is a multi-sensory artist. She completed her first degrees in London, and from 2016-2020 was in Sydney, researching multisensory art at the University of New South Wales.
Burzynska's art seeks to shift perceptions about the ways we interact with the world, proposing that we use more than just our capacity for looking to understand and navigate our way through the places that we occupy, adopting a wider perspective through our senses, particularly touch, smell, taste and hearing.
Her residency in Ōtautahi has seen her seek out individuals and groups who represent a more varied response to finding their way around the city, including the blind and low vision community and foragers. What might we find when we stop looking? is in many ways a collaborative exhibition, using input from all the walkers, and the direct participation of forager Peter Langlands, chef Alex Davies and composer/musician and urban planning academic Roy Montgomery.
How did Burzynska establish her practice as a sensory artist? She notes that she was readily positioned outside the visual arts with a separate background as a wine writer for several decades, including ten years as a columnist for The New Zealand Herald. 'After finishing my masters I was working between sound art and wine, also moving into writing about both. While initially separate, in the last 12 years I've increasingly combined sound and taste in my practice, with a lot of my work now multisensory art presented as installations'.
'The Arts Centre project has been very relationship based. The walks have been with members of the general public, including the blind and low vision community. As they navigate the city, touching and hearing are important tools, which they used to pick up things that I hadn't noticed. A number told me that they didn't come into the city for recreation as the rebuild has made it a bit of an assault course. For people with no vision, being directed off footpaths onto roads can be a frightening thing'.
Burzynska previously lived in Canterbury from 2005 to 2012, and post-quake she describes it as the perfect place for her psycho-geographical research, allowing her to explore and find different modes of navigating the city. She makes reference to early responses from the city's residents in Share An Idea, expressing her disappointment in its demise and its connection to the walks on her residency: 'People wanted a pedestrian city and from the maps that I have of my current work, I can confirm that it is not a pedestrian city. There are lots of barriers to moving around in the central city'.
'With the walks I have asked people to turn down their vision and have more of a sensory balance. We let the visual dominate so much, but there is another world going on that we literally overlook if we don't fully tune into our other senses. I am inviting people into this world. On the walks, people discovered a whole lot of different experiences that they wouldn't have had. Actively touching the city was something few had done before: such as urban structures like lamp posts, but often drawn to natural elements, possibly due to the interest in the lack of uniformity of the textures of things such as the bark of trees and flowers'.
'I wasn't trying to be didactic. It was more about people being conscious of their own senses, and alert to the whole sensory spectrum of our urban environment. For example, with the professional forager, Peter Langland we spent an hour just on Worcester Boulevard finding so much to eat. There were different greens that could be used in salads, mushrooms, walnuts and edible flowers'.
'My exhibition encourages the same spirit of sensory adventure as the walks. It is a series of multi-sensory installations using ideas and materials collected on the walks. There are sound-scapes from the sounds I recorded; smell-scapes using aromatic materials I found and distilled, foraged food and textural objects to interact with. I am fostering an active multisensory alternative, one that is often suppressed in our busy and visual-focused daily lives. What might we find when we stop looking? is literally hands on. It explicitly invites visitors to please do touch the artworks, and even taste them too'.
DETAILS
Jo Burzynska
What might we find when we stop looking?
Pūmanawa Gallery, The Arts Centre Te Matatiki Toi Ora
2 Worcester Boulevard, Christchurch
8 – 19 September, 11am – 5pm
Artist Talk: Pūmanawa Gallery 16 September at 6pm in the gallery
IMAGES
Jo Burzynska, 2021, Foraged botanical material
2 Jo Burzynska, 2021, Multisensory Meander, Street walk, Tree Touch