News
ArtBeat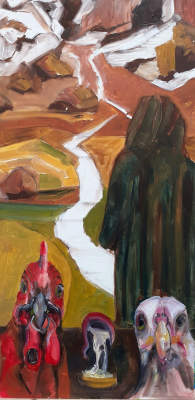 Vicki Mangan, 2020, Untitled (painting)
(Title page image: Nick Harte, Ending Explained , 2020, oil on cardboard record cover )
Three Exhibitions Scheduled in April at Art Hole
Art Hole is an artist-run space at 336 St Asaph Street that leases its spaces at an affordable rate to artists across a range of disciplines for exhibitions and events, photo shoots, dance and theatre rehearsals. At 72 square-metres it is a modest space but the versatility and largess of its programme, and its ability to surprise and renew faith in the visual arts in Ōtautahi, makes it essential viewing. In March/April its exhibition programme features:
Tracy Hay and Vicki Mangan On the Surface: Hay and Mangan are 4th year Honours students at the Ilam School of Fine Arts. In On the Surface they explore paint as subject and object. Hay's paintings explore the materiality of paint itself, working with paint skins and elements of sculpture to question a painting's traditional two-dimensional support. Her works deliberately set out to confuse perception of materiality, shadow and surface.
Mangan's works apply a bold application of colour to the surface or the support of the paintings, which belies the more complex visual language being explored. Paint surfaces which create emotional narratives about subjects and settings, feature colour articulated as a form of grammar, intentionally leaving the observer's perceived narratives open-ended and unresolved.
DETAILS
On the Surface was scheduled to open Tuesday 31st March 5:30pm and to run from
Wednesday 1st- Saturday 4th April
Nick Harte, Babymetal 2.0. Harte's series of 12-inch paintings, entitled Babymetal 2.0, involve a certain power of accident. For example; four pancreases can be grafted onto it simultaneously without the animal experiencing the slightest dark cave glimmer, nor the hanging rats with the cruciform wings of bats.
DETAILS
Babymetal 2.0 was scheduled to open 5:30pm Tuesday 14th April and to run from
Wednesday 15th to Saturday 18th April

Gareth Brighton and Jonathon Glover, Life Like Spill. An exhibition that examines art-making through the historical lens of expressionist painting and the use of different image-building methodology and ethos. Featuring painting, drawing, screen-printing, and construction, the work displayed in Life Like Spill will re-articulate the energy and conventions of both abstract and neo-expressionism to new ends.
DETAILS
Life Like Spill was schedule to open 5:30pm Tuesday 21st April and to run from
Wednesday 22nd - Saturday 25th April