Reviews
ArtBeat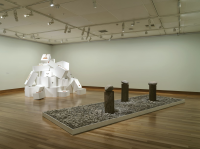 Esteemed object artist Areta Wilkinson brings a contemporary mahing akai (customary site for gathering or making practices) to the Christchurch Art Gallery Te Puna o Waiwhetū with Moa-Hunter Fashions. This imagined maker's space considers concepts of whakapapa and connections to local whenua, through a jewellery practice grounded in Ngāi Tahu methodologies and worldviews.
Moa-Hunter Fashions foregrounds the intimate nature of worn objects in carrying personal narratives, as touchstones for genealogical connection, meaning and memory. Pieces explore the histories and transmission of wearable taonga and collective mātauranga, with an eye to present relationships and questions of the future.
For Wilkinson, jewellery-making acts as a record of learning, a way to orientate one's self in the world through critical personal experience. Her practice comments on diverse knowledge systems and the exchange of cultural material; revisioning taonga from Te Waipounamu dislocated by colonial research and acquisition. The contemplative atmosphere of Moa-Hunter Fashions resonates with the artist's experiential studies, a reflective practice enriched by personal identity and community insight.
Moa-Hunter Fashions conjures a moment of quiet, opening the door to new readings and understandings. The space is informed by mark making – echoing peak and braided river in the ebb and flow of the installation, softly punctuated, trailing. Objects retain their relationship to body and site: pieces drape a maunga of white cubes, alongside a riverbed of Waimakariri and Rakahuri hammer stones, drawing the landscape of Wilkinson's home into the gallery.
The artist's collaborations with photographer Mark Adams explore the potential of silver bromide photograms in documenting taonga tūturu in museum collections. The photogram makes an object without mediating or interfering with the agency of taonga. Artefacts imprint themselves in a singular instance.
From these ghostly emanations, forms such as Wilkinson's moa vertebrae are cast in Ōtākou and Te Tai Poutini gold and beaten silver. Other works trace the biomorphic lines of stones and shells, early tool cultures and cultural adornments, recalling artefacts from historical sites of production. Local clays, kōkōwai (red ochre) and flax bailing twine alongside fine metal working lend an alluring tactility, finding a compelling tension with conversations of preciousness and collection. These mediums undergo a transformative process, an alchemy from pure object to conceptual space, textured by successive layers of narrative and embodied process.
No part of the exhibition is left unconsidered. Moa-Hunter Fashions is a complete work of art, combining whakapapa narrative and objects grounded in mātauranga Ngāi Tahu,that yet poses more questions than it answers.
DETAILS
Areta Wilkinson, Moa-Hunter Fashions
Christchurch Art Gallery Te Puna o Waiwhetū
Corner Worcester Boulevard and Montreal Street
18 September 2020 – 8 February 2021
IMAGE
Installation view of Areta Wilkinson: Moa Hunter Fashions

showing

Whakapapa I

and

Whakapapa IV

. Photograph: John Collie