Reviews
ArtBeat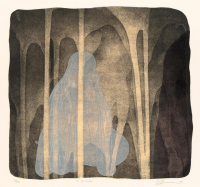 Brent Harris, Towards the Swamp
Lara Strongman's last curated show for Christchurch Art Gallery before taking up her new role at the Art Gallery of New South Wales in Sydney, and CAG's final show for 2019, Brent Harris' Towards the Swamp is an interesting one. The New Zealand-born Harris is an Australian artist of significant stature and the show also celebrates a major gift of copies of all his prints going forward.
The theme of the exhibition finds its roots in the amorphous forms of an Edvard Munch woodcut in the collection of the Art Gallery of New South Wales, Towards the Forrest (1915), which Harris has hybridised with childhood memories of New Plymouth and the Manawatu River in flood, sweeping away tree trunks. At the same time, swamps have connotations of womblike maternal darkness and fertility – the unconscious mind with the serial numbers filed off.
The work in the exhibition, comprising of prints and paintings, is intensely psychological. While Harris' starting point is spontaneous automatic drawing, a number of art-historical influences aside from Munch are obvious, if treaded lightly, including Goya's nightmarish Capriccios in the case of The Other Side (2017) series of prints, Barnett Newman, Ellsworth Kelly, Ad Reinhardt, Colin McCahon, and perhaps even Gordon Walters.
The work generates its own mythology in a manner not dissimilar to Michael Illingworth's Mr and Mrs Thomas Pissquick, through biomorphic dribbles and romping blobs, emerging from flatness into spatial complexity as it progresses. Harris' deep mental engagement with his source material is palpable, and there is a playful disregard for "abstraction" and "representation" as discrete categories, and here I shall invoke Martin Kippenberger's deliberately hyperconscious naivety and painterly disruption.
There are two stand-out pieces in the show, both now in the CAG collection that almost threaten to overwhelm the rest of the work. The large 2019 painting Peaks (The Other Side) is Harris working in the high Symbolist register, a cool, off-key Puvis de Chavannes moonlit palette, a Munch landscape purged of expressionism except for the bare and spindly trees and flattened out pop art style. The titular mountains with their cartoonish turbans of snow summon Mount Taranaki and the Puakai Range.
Two highly stylised human figures, archetypal, male and female, Adam and Eve, like something out of Tove Jansson's Moomin books with a dash of Yoshitomo Nara, look up at a vast cosmic eye and ear floating in the blue heavens, but as each only sees one of the organs, as in the Indian parable of the blind men and the elephant they cannot combine both into an understanding of God, or the universe, or whatever sublime transcendence you choose to identify with. Harris says he's not religious, but a lot of deities make their way into his work, as well as a kind of Platonic pantheism. Everything has a soul and everything is god, or the equivalent.
The 2004 lithograph To the River, gifted by the artist to the gallery, has a distinctly Munch-like vibe to it, atmospheric and ambiguous, but it also combines a number of tropes from eastern and western religious art into an effective and affecting synthesis, and likewise what I would call Symbolist in that it approaches greater metaphysical truths in an indirect and questioning manner. The composition generates its own sense of space with drip-like gold verticals that could be a forest or a cave. This implied space is occupied by a single ghostly figure, blue and luminous like a will-o'-the-wisp or a vision of the Virgin Mary. The posture suggests melancholy and introspection. I want to call it a postmodern ikon. Figuration is only slowly ceasing to be a liability (unfairly) in contemporary art, but Harris negotiates that with ease.
Is that an accurate reading? Harris' avoidance of concrete narratives render that a moot prospect, and Nietzsche was only partially correct when he wrote that to experience something as beautiful is to experience it wrongly. Francis Picabia, invoking Plato's Philebus, stated that form and colour had their own independent existence and "generate their own particular pleasures", which is particularly true of Harris' Swamp works. The dripping mud and slime transcends allusion, abstraction and the super-flat. In a contemporary context where visual pleasure is somehow always associated with exploitation, possession and cruelty, Harris' ambiguities beguile the retinae with beauty consummated in desire.
Not only is Towards the Swamp Harris' first solo exhibition in a New Zealand public gallery, but it is also an exemplary sampler of the qualities that make him such an important Australasian artist.
Brent Harris, Towards the Swamp
Christchurch Art Gallery Te Puna o Waiwhetū
Curated by Lara Strongman
6 November 2019 – 23 February 2020
IMAGE
Brent Harris To the River 2004 Lithograph. Collection of Christchurch Art Gallery Te Puna o Waiwhetū, gift of the artist, 2018
Brent Harris To the Forest 1999 Colour screenprint. Collection of Christchurch Art Gallery Te Puna o Waiwhetū, gift of the artist, 2018