Reviews
ArtBeat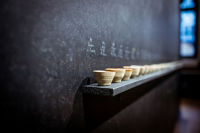 Alix Ashworth considers identity, transformation and connection to local whenua with Ritual Offerings. Ashworth reflects upon relationships between people and landscapes, foregrounding narratives of violence and guardianship, through a conscientious gathering practice and contemporary ceramics. An apprehensive seer, the artist weighs poignant personal experience and ancestral stories with questions of the future.
Eighty stoneware vessels house measures of fired organic and terranean mediums - customary resources and materials gathered from, and with close spiritual ties to, her ipukarea. Taonga including sand from Rakiura and Te Mata Hapuku are remade in destruction by fire. This is a volatile alchemy. Each tiny vessel resonates with far-reaching seismic affect, a sublime vibration. Introduced to the gallery space, these conduits become points by which to navigate, a full circle marked in four shades of uku (clay).
Under the watchful eye of kaitiaki (guardians) Tōku Whenua and Tōku Manawa, earthenware crucibles invoke the curious lure of seashells. Glazed interiors are speckled with inclusions, pearlescent, but sheltering something, perhaps unsettlingly biological, within. Each taonga reacts to the firing changefully: crumbling, clinging in lichen-like blooms, or pooling in glassy suspensions.
Sacred pigment Kōkōwai is made anew in glittering grains. Fragile plumes of salt-crystals and milk-blue marbling left by coastal Pīngao hold the promise of further change or imminent collapse, continuing cycles of transformation. These earthbound treasures operate as spaces for projection, touchstones for feelings of empowerment, affirmation, or loss; each an indexical annotation speaking to an emotive and embodied methodology.
Pieces document Ashworth's ritual study of personal connection, sites or understandings shared with her children or with wahine of the collective Kauae Raro. In place of traditional knowledge systems for gathering and making, the artist offers an experimental clay practice grounded in community, storytelling and social conversation. Covetable objects prompt questions around possession and reclamation, inheritances and duties of safekeeping.
Absolution lends a compelling, outsider glamour to encounters in the gallery space. Objects invite approach but are perhaps trepidatious to view; a distance which gives pause, a moment's hesitation. Accompanied by the underlying hum of music and needle, this exhibition conjures an encompassing gestalt, an electric atmosphere appropriate to commentaries on place and preciousness.
Artefacts in Ritual Offerings frame dialogues on our volatile interactions with the land, bringing a moving experience of intertwined earth and anthropos to Absolution gallery.
DETAILS
Alix Ashworth, (Kāi Tahu, Kāti Māmoe, Waitaha) Ritual Offering
Absolution, 2 Worcester Boulevard, Arts Centre Te Matatiki Toi Ora, Christchurch
1 – 26 April
IMAGE
Alix Ashworth's Ritual Offerings, installation, Vessels #1 to #80 (2020), hand-blended uku and native taonga. Image courtesy of the artist and Absolution. Photograph: Chloe Langley.