Article
ArtBeat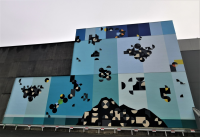 Over the last decade, urban art has become synonymous with Ōtautahi's creative profile. Promotional and tourism advertisements have routinely focussed on the blockbuster murals throughout the CBD as symbols of a vibrant new creative energy coursing through the post-quake landscape, a reason to explore the renewed city.
In fact, it might be suggested that the rise of street art has helped frame the arts more generally as a central part of Christchurch's identity. But while the instantly recognisable façade of Te Puna o Waiwhetū – The Christchurch Art Gallery also appears as a regular city arts icon (unsurprising for a civic institution with a significant legacy), many of Christchurch's smaller galleries seemingly receive less fanfare when it comes to celebrating the city. What does this suggest about the wider arts ecosystem in Christchurch and the relationship between the disparate worlds of art in the streets and the art found within the city's network of gallery and exhibition spaces? Surely with the current profile of urban art, a closer relationship between the city's art communities would prove beneficial, not just in the promotion of a healthy arts landscape, but in the potential for cross-pollination and collaboration, ensuring a truly vibrant scene for the city.
At the risk of sounding cynical, the use of colourful and transformative murals as promotional tools is not surprising (indeed, it is part of a wider trend, with urban art regularly used to sell cars, fashion and holidays), street art's ability to reframe and re-imagine the desolate post-disaster terrain can be viewed with the potential to change perceptions on several levels. They have come to represent both a shift away from the city's pre-quake colonial identity of squares, statues, and stonework (or even the idea of the city as a gateway to adventure tourism) and importantly, have provided an alternative public face to a devastated post-quake landscape, where the broken Cathedral, wriggling hurricane fencing and vacant spaces had become an established expectation burned into a collective memory by the quake narrative. The ability of art to impact our daily surroundings is made explicit when we see carefree smiling cyclists happily passing a bright, bold mural as they navigate the city with not a ruin in sight.
Would a gallery interior be able to communicate the same message? Can a white-walled gallery space change perceptions of the city outside its doors? The art inside can undeniably raise important discussions around how we experience our shared environments (or, of course, can operate with the distance the white cube context provides) but as an image, such spaces may lack the reassurance required to sell a city that has been through the wringer.
Urban art immediately connects with a wide public audience, in part through its physical presence in the streets, but also through the recognition of this role and the deployment of a visual language and conceptual basis that is accessible and eye-catching. The problems of graffiti's alien appearance are less obvious in crowd-pleasing murals and iconographic street art.
In contrast, the gallery world can still seem isolating and strange to the uninitiated. While we can easily encounter street art murals on our daily commutes and lunch breaks, the decision to cross the threshold and enter a gallery space where our comprehension skills may be tested by contemporary practice is a more confronting choice for many. While this raises a bigger question around our engagement with art and its performances, and the place of art in our collective consciousness (with the choice between challenging and reinforcing conventions that art can present), these differences in accessibility suggest the potential available through greater interactions between these worlds.
While graffiti and street art have historically been positioned as outsiders on the peripheries, sceptical of and distanced from the traditional art world, they have now become a more established public presence. There has long been a sense of borderline condescension from the art world's gatekeepers towards urban art, and graffiti and street art have created their own platforms, such as festivals, and harnessed digital media for exposure to gain a hard-fought spotlight and in some ways emphasising their difference. And yet, the potential for artists to shift between these realms is greater than ever (although some traditionalists may refuse to completely open the door in either direction). There are numerous ways for a back-and-forth exchange of ideas to inform each space, taking ideas from the streets inside and disrupting modes of display, and alternatively, infusing a greater conceptual weight to urban art practices by drawing on gallery practice.
Ōtautahi is well placed to consider this mutually beneficial relationship. There is local precedent in the inclusion of the likes of Jeroen Jongelen and Ash Keating in SCAPE Public Art biennial programmes with each artist experienced in guerrilla interventionist practice (even if these 'street art' backgrounds were obscured), highlighting the infiltration of the traditional public art space. Similarly, Fiksate Gallery offers the chance for urban artists to push their work in new directions within the confines of the exhibition world, while recent artist-run initiatives seem primed to embrace subversive and chaotic approaches that could easily straddle each setting.
Kelcy Taratoa's massive mural TeTāhū o ngāMaungaTūmatakahuki on the outer eastern wall of the Christchurch Art Gallery (following Kay Rosen's Here are the people and there is the steeple) should be viewed as an example of muralism's returning relevancy within the institutional art world since urban art's rise. It is interesting to note that while there is more fluidity, there are still apparent limitations on these transitions; many urban artists seem to favour installation and sculptural work as they venture indoors rather than direct-to-wall painting, and there are limited examples of artists jumping from studio to mural festivals, which reflects that in some ways it is easier to go from a street artist to a fine artist, but the other direction may be more tricky.
But regardless of these challenges, it seems that the first step may be attempting to reconcile the idea that there is a great distance between 'art worlds' and focussing on how they can all serve each other. Murals are a perfect way to advertise Ōtautahi as a creative city, but they will be well served by a thriving gallery scene that supports these public forms, while exhibition spaces that are more inclusive and accessible will benefit from the profile that is afforded to the arts. A truly healthy arts community would be one fuelled by fluidity, embracing the diverse backgrounds of artists without limiting their definitions and potential.
IMAGE
Kelcy Taratoa, Te Tāhū o ngā Maunga Tūmatakahuki, 2020, acrylic on wall, commissioned by the Christchurch Art Gallery te Puna o Waiwhetū. On the eastern outer wall of the Christchurch Art Gallery Te Puna o Waiwhetūi, Worcester Boulevard