Article
ArtBeat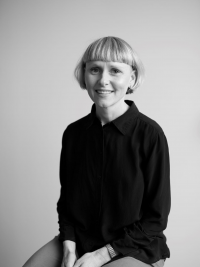 Writer and former curator at St Paul Street Gallery AUT in Auckland, Abby Cunnane discusses with Warren Feeney the influences of St Paul St on her practice as curator, her recent visit to The Physics Room and learning te reo Māori.
WF: What was the background to your work at St Paul St Gallery in Auckland?
AC: St Paul St is a part of Auckland University of Technology, and the educational context was fundamental to the programme. While the exhibition programme was varied, we were consistently thinking through the relationships that underpin all forms of knowledge, about access to knowledge, about research practices and ethics, about learning and listening, language, and who gets to speak.
These questions are still very important to me. I was lucky to work with Charlotte Huddleston as Director, building on the gallery's ongoing response to the New Zealand Education Act's statement that the university's role is to act as 'critic and conscience of society,' and what that could mean in the context of the gallery's wider community.
The series of St Paul St Curatorial Symposia hosted by the gallery during the time I was there (and prior and since) have been influential on my thinking about art, research and exhibition making, specifically in the context of Aotearoa. Perhaps a reflection of this can be found in two events, Ako mai, Ako atu (2016) and Ipu ki uta, ihu ki tai (2017), which I worked on with Charlotte, Balamohan Shingade and Desna Whaanga-Schollum. Two St Paul St exhibitions that I loved working on, and learned a lot from, are Ngahuia Harrison: E takarae ki te muri i raro mata raranga mai kaewa ki te rangi ko au ki raro whakaaro rangi ai and Beatriz Santiago Muñoz: Their movements retain the light of the sun (2017). Though very different, both these projects considered the role of language, the natural environment and intergenerational narrative in holding and strengthening identities. They were also a significant part of the reason I went on to study te reo Māori for the last two years.
WF: How familiar are you with The Physics Room, its history and its programme?
I've been familiar with The Physics Room programme over a number of years, though from afar. I was really interested in the recent project Room to breathe: Ka tau hā te mauri by Martin Awa Clarke Langdon, which engaged with the history of The Physics Room site through a number of collaborations. I was glad to be able to visit recently and see the kōhatu Martin has placed at the front of the gallery during that exhibition. I look forward to working alongside them.
WF: I note that in 2020 you were studying at Te Wānanga o Aotearoa (Tē Rōnakitanga ki te Reo Kairangi) in Tāmaki Makaurau. How has that been?
Learning te reo Māori in a full-time immersion environment over the last two years has been a life changing experience, and influenced my understanding of curatorial work and research in the context of Aotearoa. These are things I have thought about for a long time, but learning te reo has in some way made this thinking more solid, and personal, and challenging. At heart, it has changed the way I think about language itself, as a series of relationships rather than as a container of information. This is something that I think often art makers already intrinsically understand. Being in a learning environment with some of the same students and kaiako over two years has also meant a lot. As much as anything else, learning in a group over this duration allowed for more risk and vulnerability as part of the process. I feel very lucky to have had this opportunity and am looking forward to bringing it back into curatorial practice. I'll continue studying (one weekly night class) through Te Wānanga o Aotearoa in Ōtautahi.

IMAGE
Abby Cunnane, photograph: Ralph Brown