Article
ArtBeat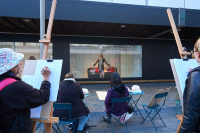 Towards the end of 2019 Christchurch City Council launched a new arts policy and strategy for the city and its residents. Toi Ōtautahi – Strategy for the Arts and Creativity in Ōtautahi Christchurch replaced its well overdue 2001 predecessor with a well-researched consultative document with attitude.
Toi Ōtautahi/ Christchurch Arts was initiated with a steering group set up in March 2018 that, among others, included City Council staff, Creative New Zealand, the Rātā Foundation (Rātā) and Christchurchnz and from July to September 2018 a series of consultative workshops were held with all sections of the arts community. The information gathered was complemented by a working party made up of members from CoCA, the CSO, the Court Theatre, Ōtautahi Creative Spaces, RAD Collective and the Arts Centre.
The policy and strategy document describes itself as 'a new kind of partnership strategy, developed collaboratively with the arts sector and major funding, advocacy and development agencies.'
This is framed by an acknowledgement that the arts cannot be sustained by City Council on a scale that will adequately support the arts community and that Creative New Zealand, the Rātā Foundation and Christchurchnz (the city's marketing and economic development agency) are to be significant players and supporters.
Toi Ōtautahi/ Christchurch Arts is a well overdue document and once the lockdown is downgraded to the point where social distancing becomes redundant it should be acted upon as an immediacy priority for two good reasons. In the first instance, as Christchurchnz surmises: As businesses struggle to recover in the central city and 9,000 to 36,5000 residents are expected to lose their jobs over the next 12 months, the central city's recovery and its retailers are among the most vulnerable. The arts represent a point of difference to the suburban shopping mall through events and creative activities capable of attracting returning visitors to the city's heart.
Secondly, Creative New Zealand's report on the state of the country's artists, A Profile of Creative Professionals published in May 2019 detailed that the average wage for a New Zealander artist is $35,800 per annum or 69% of the average wage nationally. Depressingly that % of difference remains close to the average twenty years ago. Creative New Zealand's 2003 survey, Portrait of the Artist, based on research from 1999 detailed a slightly higher average at $20,700 in 1999 or 74% of the average wage. In spite of two decades of media releases that claim the arts are valued by New Zealanders our artists remain in an occupation that places them financially at the bottom of an economic ladder.
On both counts Toi Ōtautahi/ Christchurch Arts is a timely document. It states: Christchurch will be a place 'where there is support for local artists and this support provides new employment opportunities in the creative sector, boosts the local economy and creates a more vibrant city to live in or to visit.' It also acknowledges that the role that the arts have played over the past decade throughout a sustained period of challenges has seen them occupy an active role in shaping a new city identity.
To its credit, there were already examples of collaborations between Council, business and the arts prior to the documents released. In August 2019 Glitterbox Pursuits (artists Audrey Baldwin and Jennifer Shields) were commissioned by Christchurchnz to deliver Winter Wander, an eight day arts event featuring sixty local artists in exhibitions, installations and lunch-time sketching classes in Cashel Street, the Terrace and The Crossing. This public arts programme featured the group exhibition, Reverie in the BNZ Centre, an arts trail of 11 artists' installations in nine retail outlets and a Lunchtime Sketch Club in venues that included Scorpio Books and Ballantynes' window display space.
From October to November last year, Terrace developer Antony Gough also provided free rent for theatre producer Michael Bell's Little Andromeda programme of 120 shows, upstairs on the Terrace within a cluster of restaurants and bars.
Toi Ōtautahi/ Christchurch Arts is a document perfectly suited to the needs of artists and the city's further revitalisation. It just needs activating with a light and practical infrastructure that connects artists with businesses. Let's see this happen.
DETAILS
Christchurch City Council's Arts Strategy 2019 – 2024: https://ccc.govt.nz/the-council/plans-strategies-policies-and-bylaws/strategies/arts-and-creativity-strategy/
IMAGES
Lunchtime Sketch Club with Constance Mayhem modelling in The Crossing's air bridge: Winter Wander, Saturday 3rd August 2019 12pm - 2pm. Photograph by Janneth Gil
Lunchtime Sketch Club, Ballantynes, photograph Jennifer Shields