Reviews
ArtBeat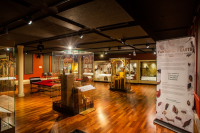 Recognised as the most significant teaching collections of classical antiquities in the Southern Hemisphere, the Logie Collection has been displayed in the restored Teece Museum of Classical Antiquities in the Arts Centre since May 2017. Warren Feeney spoke to curator of collections, Terri Elder, asking: What is the Logie Collection and what is it like being resident in the Arts Centre?
'The Logie Collection was established in 1958 by Miss Marion Steven and nourished by the Department of Classics, and that connection with the University of Canterbury is enduring. It was created as a resource for teaching and research, and it continues to be used for that purpose today. Even though the Collection is now housed in UC Art's city campus rather than at Ilam, we still have weekly tutorials and classes of students from Classics and other departments or colleges from across UC, all making the most of this fantastic resource. '
'Underlying the creation of the Logie was a dedication to excellence in teaching, learning and lifelong education. These core values have never been applied narrowly. Right from the very start this included sharing the Collection with the wider community. For example, in 1958 when the Collection had literally just become part of the University, the Classics Study Room was opened up to the public every Thursday during term time!
Alongside traditional classes, one of the fantastic developments that have arisen out of the creation of the Teece, are the opportunities for UC students to be involved in public outreach. The Teece employs students as gallery hosts to greet our guests and answer their questions, and provides projects for student interns. We also have a programme for student volunteers, who can come along to support events such as Kidsfest or Heritage Week, and in return get their community service recognised via the Co-curricular Record programme at UC.
Of course there have been challenges. Meaningful engagement takes time and energy, which means asking a lot of staff who already have full-time teaching and research commitments. That being said, I think we are slowly finding our feet, and when I reflect on the fact that over 30,000 visitors have enjoyed seeing the Teece in just the last two and a half years, it really does make me feel the effort has been worthwhile.'
The Teece Museum of Classical Antiquities
The Arts Centre, 3 Hereford Street
Wednesday – Sunday 11am – 3pm

IMAGE
Fantastic Feasts: Dine with the Ancients, Teece Museum of Classical Antiquities at Arts Centre, Te Matatiki Toi Ora, until 23 February 2020. Photograph courtesy of the University of Canterbury