Blog
ArtBeat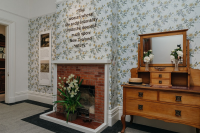 I have been very keen to explore Te Whare Waiutuutu Kate Sheppard House since it opened in 2020. Sheppard lived at her Clyde Road property from 1888 – 1902 with her husband Walter and their son, Douglas. From here, she spearheaded the campaign for women's suffrage, hosted meetings and sent out letters and petitions. Following a succession of owners, the late nineteenth-century villa was purchased by the Government in 2019. It is cared for by Heritage New Zealand Pouhere Taonga and is dedicated to Sheppard and women's suffrage.
The House has been sympathetically restored. The rooms are tastefully furnished without being cramped of contents, while large windows allow in plenty of natural light. The text panels in the rooms are thoroughly researched, informative, yet discreet. The most significant room in the House is undoubtedly Sheppard's dining room as this was where she pasted together the pages of the gigantic 274 metre long Women's Suffrage Petition of 1893, before it was sent to the House of Representatives in Wellington.
Following the success of the petition, New Zealand became the first self-governing country in the world to give women the vote. The dining room pays tribute to the campaign, so much so that the floral wallpaper at one end of the room features women's signatures from the petition. Meanwhile, the simplified Sheppard family tree in the hallway is insightful, provides good context, and brings to light Sheppard's surprising connections to other well-known Christchurch families.
One of the highlights of visiting the House is seeing some of Sheppard's possessions on display. Many of these objects are on long-term loan from various families and organisations and of particular significance is Kate's silver locket. It is engraved with her initials 'KS' and would have been worn at the waist. There are other special items including Sheppard's sewing box which is inscribed with her maiden name, 'Kate Malcolm', a bedroom chair, an intriguing cutlery canteen and Sheppard's own books that cover a range of subjects including faith and religion, evolution, and other aspects of society.
Kate Sheppard House has enriched my knowledge and appreciation of Sheppard greatly. It also brings to light her involvement with other organisations such as the Women's Christian Temperance Union, which was after all central to the suffrage campaign, as well as the efforts of other inspirational New Zealand women – those who worked alongside Sheppard and those who have achieved significant social and political change more recently.
DETAILS
Te Whare Waiutuutu Kate Sheppard House
83 Clyde Road, Ilam, Christchurch
Wednesday – Sunday: 10.00am – 4.00pm, admission charges apply
IMAGE
Kate Sheppard House. Photograph by Rebecca Claridge.