Blog
ArtBeat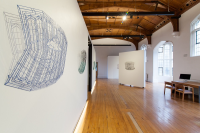 The Central Art Gallery opened in 2017, its founding director Richard Laing and co-director Jonathan Smart ambitious to make a commitment to establishing a contemporary gallery that acknowledged the notable history of the Arts Centre Te Matatiki Toi Ora and its former life as Canterbury College (1873 – 1961). Both were aware of its legacy for education and contemporary art. In the 1990s for example, the McDougall Art Annex, then an outpost for the city public gallery, and The Gingko Gallery, a specialist print studio and exhibition space, represented printmakers from throughout Aotearoa. In 1990 The Gingko became The Salamander and assumed a new life as the gallery for contemporary Pacific art, representing artists that included prominent individuals such as Michel Tuffery and Fatu Feu'u.
In 2022, Tuffery is represented by The Central Art Gallery and this is no coincidence. It is a relationship between an artist and a gallery of historical significance. And the nature of this relationship is shared by other artists at The Central. In 1981, the Arts Centre commissioned Neil Dawson's Echo, a contemporary public work that was unique in its placement. Echo was suspended above the Arts Centre's courtyard and Dawson's interest and commitment to the Arts Centre as site, was again evident in his April 2019 exhibition at The Central, Clouds and Feathers, the subjects of his work, seemingly closely related to Echo.
Located in the former Canterbury College Library in the Arts Centre, The Central Art Gallery's current exhibition programme is conscious of the building as historically a place of knowledge and learning. Most recently, this has been evident in the touring survey exhibition curated by Gregory O'Brien, Elizabeth Thomson's Lateral Series, an exhibition that O'Brien describes as attesting to 'a career-long commitment to grappling with both natural history and the human condition, fuelled by poetic imagination as well as by much research, field-work and long hours in the studio.' Happy birthday and congratulations to The Central Art Gallery on its 5th year.
DETAILS
The Central Art Gallery, Celebrating 5 Years
Old Library Building, The Arts Centre
2 Worcester Boulevard
7 April – 15 May
IMAGE
Show #5 Neil Dawson On ReflectionJuly-Aug 2017, The Central Art Gallery