Article
ArtBeat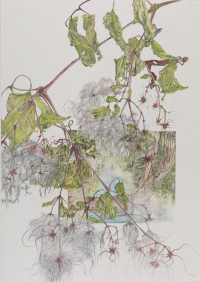 An affiliation of Canterbury artists who meet fortnightly, The Associates work in a variety of disciplines, exchanging and sharing knowledge central to their arts practice and contributing to ongoing critiques and discussions around contemporary practice and resourcing.
Seven members of the group are exhibiting in the Amuri Community Arts Council Gallery throughout December and January and access to their exhibition space is via the Hamner Springs Library with their exhibition during the same hours throughout the day. (The Associates exhibit together regularly in public galleries and transitional spaces establishing a base for their exhibitions in large and small galleries, responding where possible over the past two years of Covid chaos, and succeeding in ensuring in continuing to exhibit regularly).
In 2021, A Stone to Strike and a Rock to Stumble Over at the Ashburton Art Gallery was a highlight of this period for the group, arts writer and critic Andrew Paul-Wood noting that, 'for a highly diverse group of artists from multiple cultural backgrounds, working in vastly different media, there is a surprising cohesion to the whole. Certain themes harmonise and repeat – the relationships of humans with nature and the world, human environments, and natural environments. Each artist has their own take on what they are doing.'
Themes of home, memory, materiality and processes weave throughout their work, subtly creating conversations between practices while maintaining individuality. These include painting, dyes, textiles, print, photography, weaving, ceramics, sculpture, collage, and paint on aluminium.
The Associates are: Sarah Anderson, Janneth Gil, Karen Greenslade, Lee Harper, MiKyung (Amelia) Jang, Viv Kepes, Stephanie McEwin, Mark Soltero, Nicki Thorne and Susanne van Tuinen.

DETAILS
The Associates – Snapshot
Amuri Community Arts Council (ACAC) Gallery
Hanmer Springs Library, 3 December – 30 January 30 2023
Opens Saturday December 3, 5pm
IMAGES
Karen Greenslade,Beside the Golden Creek, 2022, mixed media on 200 gram Fabriano
Sarah Anderson,Old Man's Beard, watercolour pencil on paper