Blog
ArtBeat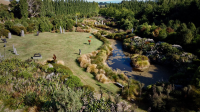 Tai Tapu Sculpture Garden's annual sculpture event opens for the first three weekends of March, (Saturday and Sunday), commencing Saturday 6th March. Its founders and hosts Annabel Menzies-Joyce and Peter Joyce have curated an impressive line up of leading, mid-career and emerging artists, commissioning works and also supporting artists through the exhibition and sale of their works.
In 2022, the participating artist include: Matt Akehurst, Gary Baynes, Graham Bennett, Anneke Bester, Tony Bond, Ivan Clayden, Piri Cowie, Bing Dawe, Neil Dawson, Alison Erickson, Ben Foster, Fiona Garlick, Natalie Guy, Sam Harrison, Tim Main, Rory McDougall, Annabel Menzies-Joyce, Doug Neil, Tony O'Grady, Oriah Rapley, Jenny Reeve, Pauline Rhodes, Rebecca Rose, Nick Duval-Smith, Hamish Southcott, Llew Summers (1947–2019), Debbie Templeton-Page, Roger Thompson, Johnny Turner, Greg Tuthill, Robyn Webster, Evan Webb and Bruce Aitken, Jane Whales, Jim Wheeler, Matt Williams, and more. Artists work across media in; local stone, iron, steel, bronze, glass, ceramic, flax, wood, light and sound.
DETAILS
Annual Autumn Exhibition 2022
Saturdays/Sundays, 5/6, 12/13 and 19/20 March, 11am to 3pm or by appointment
Second Sunday special early opening: Sunday 13 March, gates open 10am to better suit families with little ones who nap from noon.
Entry: $10 per person. 16-years and under - free. Parking is free.
Tai Tapu Sculpture Garden, Rocklands
1/199 Cossars Road, Christchurch 7672, 20 minutes from CBD
IMAGE
Tai Tapu Sculpture Garden, drone photograph 2020