Article
ArtBeat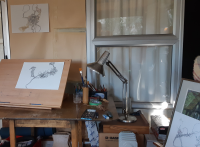 I'm getting into the rhythm of being at home and having time to be in my studio - day after day! It's still frighteningly easy to get distracted, so many books to be read and blockbuster series to watch and news to tune in to. Still there are no excuses. So the studio has been tidied and the work is happening. Self-isolation is a default setting and a pleasure not often available.
My contributions also continue as Vice President of the Friends of the Christchurch Art Gallery - Te Puna o Waiwhetū. The committee are all contributing to the Gallery's on-line/social media programme, planning for a post-covid world is on-going. Who knows when we will be able to congregate in groups again.
Meanwhile I'm focusing on a series started last year which has evolved out of a previous body of work exhibited in 2013, Botanical Fandango. Inspired by my collection of treasures from the garden (objects I collect and allow to dehydrate/decompose), I draw out the anthropomorphic characteristics I see in these vegetables, building a narrative sequence. It is a treat to be able to disappear into this part of my brain for a few weeks.
This is a time of strange dichotomies - both fearful and anxious for many as they see their livelihoods disappear, while also presenting great opportunities to slow down, catch-up on many neglected tasks and for me - enjoy uninterrupted creative time.
DETAILS
See: https://www.sarahanderson.info/vegetable-outlaws-2019 and https://christchurchartgallery.org.nz/support/friends
IMAGE
4. Sarah Anderson's studio in Lincoln