Reviews
ArtBeat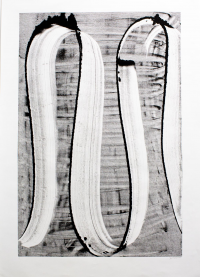 The artist-run space The Den opened its 2021 exhibition programmed with MA post-graduate Zara Dolan's Chaos & Order, a series of monotype prints that have a background in that very large printing press in the Ilam School of Fine Arts and, in a wider context, the notion that contemporary painting possesses a chameleon personality across numerous disciplines – yet retains its integrity as painting.
Chaos & Order takes considerable pleasure in printmaking's capacity to re-animate the energy and attitude of abstract expressionism and painters like Pollock and de Kooning. In 2021 that might sound like an idea for an artist to walk their arts practice into a corner. Yet, nothing could be further from the reality of an encounter with Dolan's monotypes. The process of making in the moment is everything in Chaos & Order. You can virtually reach out and touch it in prints that are a here-and- now experience as individual works and as a running sequence. The underlying narrative being a palpable sense of the artist's presence, the vigorous sweep of her arm, swabbing and circulating ink rapidly across and around the dicey surfaces it inhabits.
And if Pollock is in there somewhere, so is Mondrian. The reach of Dolan's flat screens of colour, reaching from top to bottom and left to right of the paper, propositioning a world beyond the spaces of the artist's paper.
As printmaker Dolan's painterly monotypes feel like a companion to photographer Shaun Waugh's reconstruction of the tools of his practice, rehabilitated as minimalist abstract paintings, or Emma Fitts' textile installations' potential as colour-field paintings. Chaos & Order is connected to that wider question about what painting might be in our world today and its capacity to surprise and question the nature and experience of representation.


IMAGE
Zara Dolan, XL-G-SW-#89837D-SC, 2021, monotype