Marilyn Rea-Menzies - Extinction is Forever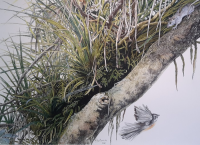 Extinction is Forever is a touring exhibition from the legendary tapestry artist Marilyn Rea-Menzies, and in its engagement with a range of materials and 75 works, is a substantial undertaking by the artist. It initially opened in October 2018 at the Wallace Gallery in Morrinsville and is currently at the Arts in Oxford Gallery.
From the mid-1980s to late 2000s, Rea-Menzies worked in Ōtautahi Christchurch as a professional tapestry artist, moving to the Waikato after the February 2011 earthquake to be closer to family. Exhibiting in Ōtautahi Christchurch for almost thirty years she maintained a highly visible presence. Even those who do not know her name will have seen her tapestries. In 2000 she was commissioned to weave a tapestry for the millennial celebrations which was exhibited in the Christchurch Town Hall until 2011 and is now in the foyer of the Christchurch City Council offices on Hereford Street.
Through her practice she has highlighted the relationship between the methodical nature of tapestry as an expression of her approach to life, making little distinction between either. She comments in the catalogue for Extinction is Forever: 'The architectural process of building the tapestry, constructing the fabric and image together so that the two are physically and visually inseparable, relates to the process of constructing and building our lives and our living and working spaces.'
It is impossible not to be impressed by an encounter with the tapestries in Extinction is Forever, the three largest: Kokako, Kieke (Saddleback) and Hihi (Stitchbird), are among the very best of her work. The titles refer to endangered native birds and, in addition to the skill of rendering her subjects, the choice of a cloak as a symbol of protection, as well as being the shape adopted by each tapestry, integrate the exhibition's themes and aesthetics.
Accordingly, they give authority to Rea-Menzies paintings and charcoal and pastel works on paper and set up visual conversations across the gallery's spaces, with the meticulous attention to pattern and detail as evident in the series of charcoal and watercolour works as they are in the rhythms and configurations of the woven twisted wool in her tapestries. Yet, where a work like Kieke (Saddleback) seems like a eulogy, treasuring the splendour and preciousness of its subject, the titles and the subjects of Rea-Menzies' charcoal and watercolour works are uncompromising and confronting. No more so than in Plastic Kills, the skeleton of an albatross, formed from its decaying feathers and discarded plastic objects.
A further grouping of three pastel works on paper, Protect Our Forest are the most recent addition to Extinction is Forever, completed in 2019, following her recent return to live and work, with a new studio in Westport where she was born. These are finely crafted images, again particular in their attention to the detail of native flora and fauna. Yet, an encounter with an image like Protect Our Forest 2 makes it difficult not to be reminded of concerns about rats and mice now stalking native species in broad daylight. Cumulatively, the orchestration of perspectives in the subjects of Extinction is Forever is also among the exhibition's strengths.

And if the idea of a cloak as a means to care and protect is a predominant image in Extinction is Forever, it is complemented by a heightened sense of the natural world gathering itself around the species that inhabit it. Certainly, it is difficult not to be reminded of New Zealand film-maker Gaylene Preston's comments about crossing from Canterbury through Arthur's Pass into Greymouth and being conscious that the land was folding itself around her as she returned to the place in which she was born.

It may only be coincidental but there is a good case to be made for a number of West Coast artists whose work appears similarly familiar with such an experience. It is evident in the paintings of West Coast-born Sue Syme and former Canterbury artist, (now living on the West Coast), Catherine Brough, and certainly evident in the tapestries and works on paper in Extinction is Forever.
DETAILS
Marilyn Rea-Menzies
Extinction is Forever
Arts in Oxford Gallery
1 February – 15 March
IMAGES
Marilyn Rea-Menzies, Extinction is Forever – Keke (Saddleback), 2018, tapestry
Marilyn Rea-Menzies, Protect our Forests 2, 2019, pastel pencil on paper