Reviews
ArtBeat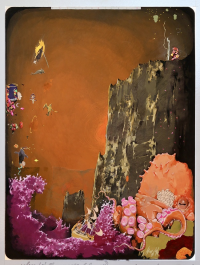 Deep Gold is Henry Turner's fourth solo exhibition, and its connections to his expedition to the Sub-Antarctic Island in 2013 and his recent show, SOMETHING FRESH at Next Gallery provides a context and introduction to his new works.
Fundamental to Turner's art of recent years is his perceived glory of strange places in the world and delight in a context of personal experience. These concerns have been married with an immersion in the art he likes across various ages and corners of the world, influences such as Heian period painting and Anatolian bronzes.
Indeed, Turner's art is layered with numerous distinct narratives – and for Deep Gold, in additional to his paintings, there is an accompanying novella. Warren Feeney asked Turner about this new body of work and the source of its strange imagery.
Henry Turner: ''Essentially, the idea for Deep Gold came from a glorious afternoon with Susanna Persad and Steven Park at Astro lounge. This was in January and I was working on SOMETHING FRESH. They were showing Flash Gordon on mute and I was already thinking vaguely of what I would do next - so I gazed idly at the screen and after a while I saw that its fantastic colours and landscapes that would be wonderful if paired with a fictional Sub-Antarctic island, weird romantic stuff, lightening and storms, rainbows and waterfalls… It would be exclusively in the Sub-Antarctic islands, as I have wanted to make a show about them since I went there years ago. Flash Gordon on its own isn't important … the music I have been listening to was at least as significant in that way, but the colours and landscapes were a definite catalyst.'
'The crux of the work and the story I have written is the fictional Sub-Antarctic island in the same sort of geographical area as the Campbell and Auckland Islands and with more or less similar flora and fauna. It is ruled by a wholly fictional emperor, who rules the island and everything there and thereabouts is under its patronage. Humans cannot go there because, (being inherently destructive), the emperor has turned its face against them from the outset. Consequently, it tries to keep away approaching ships and usually succeeds. The ship in the first and second painting in the show is set within the age of exploration. It has been sailing for God knows how many years and has approached this Island and the emperor has spotted them and sent a storm.'

'The ship is broken up under the onslaught, but a few sailors survive and they find themselves in a great underground cave. They go up to a passageway and come out onto the Island and are amazed.'
'The idea is that the island acts as a sort of ark and everything grows there in luscious abandon, free from interference. In the sixth painting, Simcha, there are tremendous plants with apple-green leaves that would be two strides across. If someone described things like that if you didn't know they existed… well, you wouldn't believe them, and this strangeness of description is a major focus of the show.'
'Deep Gold' is also a little out of the ordinary because the painting, the story and the frames are all of equal importance within the whole. I started work on all three at more or less the same time… something richer and more fertile than what I had done before was called for. This is what I remember of the Sub-Antarctic islands and it is a reflection of other strange things. The book is intended to be an artefact, a pastiche of 19th century sensationalism. I am writing it as though someone is describing it to me. It is not something I have done before.'
Henry Turner, Deep Gold
City Art Depot
96 Disraeli St, Sydenham
IMAGES


Henry Turner, Flash Orpheus, 2019, gouache on mounted paper
Henry Turner, Simcha , 2019 gouache on mounted paper