News
ArtBeat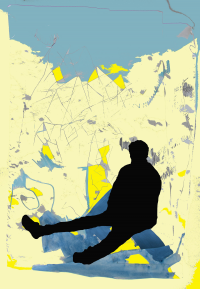 Doc Ross, The traveller,2020, pigment print and varnish.
Image on title page: Keren Oertly, Soft Landscape Series/That Which the Mountain Gives, 2020 hand woven rug with donated, salvaged or swapped materials from Ōtautahi, Aotearao
Rectify This Painting: A Group Exhibition of work by 16 Artists at City Art Depot
Inviting artists to 'rectify this painting,' artist-turned curator, Eve Barlow encourages her peers to front up for a group exhibition at City Art Depot in Sydenham. Barlow comments: 'My interests are about how people relate to each other, and how this creates social mindsets and rules, and ultimately different ways of being in the world. Once you're interested in that, you're essentially interested in everything. This 'project' for want of a better way of putting it, is a way of focusing on a particular art form (painting), but also tying in, (intentionally, rather than incidentally) social aspects. I've always been interested in how objects mediate social interactions, both in the making and the viewing. The participating artists are: Eve Barlow, Audrey Baldwin, Sharnae Beardsley, Jennifer Braithwaite, Catherine Griffiths, Clare Logan, Kim Lowe, Ed Lust, Steven Park, Alexandra Porter, Keren Oertly, Doc Ross, Rebecca Stewart, Jason Ware, Shannon Williamson and Greg Yee.

DETAILS
Rectify This Painting
City Art Depot, 96 Disraeli Street
14 April - 12 May,
IMAGE
Doc Ross, The traveler , 2020 pigment print and varnish