News
ArtBeat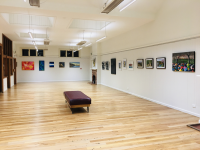 First Steps 2021
18 May – 4 June 2021
Eastside Gallery, Christchurch
First Steps is a supportive environment for artists who are new, or nearly new, to exhibiting. There's no cost to be involved, as it's one of Eastside's annual Centre-run exhibitions.
Please request a Contributor Form by emailing arts@tewhare.org, or feel free to discuss your involvement either by visiting Eastside Gallery at 388 Worcester St, Wed-Sat 11am-5pm, or by phoning 981 2881.
Registrations close on 1 April 2021.
Please spread the word!
Image from First Steps 2020.