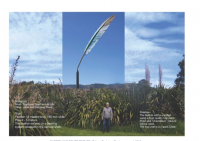 It was an unprecedented decision. To celebrate its 10th anniversary in 2023, Annabel Menzies-Joyce and Peter Joyce founders of the Tai Tapu Sculpture Garden had put out a call for expressions of interest for proposals for a sculpture to mark the occasion. Announcing the short list of three finalist, Neil Dawson, Natalie Guy and Sam Harrison in April 2020, each artist was provided with seed funding to create a maquette to further develop their initial proposals.
The invited judging panel was made up of lead curator at the Christchurch Art Gallery, Felicity Milburn and artists Darryn George and Graham Bennett who, as part of the selection process, met with the finalists to hear their rationale as to why their work should become part of the collection. Following further discussion with Annabel and Peter, the decision was made to award all three artists the prize and all three works are now to be commissioned and located in the Tai Tapu Sculpture Garden for its 10th Anniversary.
Annabel and Peter Joyce have announced their excitement and delight with the decision. 'All three are outstanding in their own right and when considered against the criteria, no one work was deemed more suitable than another. All three works will enhance the environment at TSG in entirely different and unexpected ways and we can't wait to see visitors and supporters enjoying them.' All three sculptures will be brought to fruition over the next eighteen months, installed and unveiled in March 2023.
What can we expect to see and experience? Neil Dawson's Kingfisher is a large-scale pole-mounted Kotare (Kingfisher) feather sculpture in steel that will soar 11 metres above the ground. Sited above a thick bank of flax, in certain lights from different angles it will almost appear to hover in the sky.
Natalie Guy 's The Wall is a 'wedge of a wall with three apertures providing windows on the landscape to experience the views of the Tai Tapu Garden's copper-coloured Oioi rushes. Characteristic of her practice, The Wall draws its inspiration for local and international architectural design from the mid-20th century, her work for the Tai Tapu Sculpture Garden 'inspired by two outstanding chapels: Le Corbusier's Catholic Church from 1954, Notre Dame du Ronchamp, (best known as Ronchamp) and John Scott's Futuna Chapel (1961) in Wellington.
Sam Harrison's commission is a life-size work in bronze of two veiled embracing figures to be installed on one of the Garden's tall tree-lined grassy avenues, its whitened patina, contrasting with its textured green backdrop.
Natalie Guy, The Wall, 2020, artist's maquette
Neil Dawson, Kingfisher, 2020, artist's collage proposal