Fiksate Gallery and Studio has Relocated to Sydenham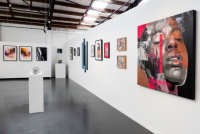 Fiksate has reopened in its new gallery and studio space at 54 Hawdon Street. Artist and gallery manager Jenna Ingram says that they are 'loving, being there in Sydenham in the Milfield Group's renovated warehouses in our new space. They have done an amazing job and been really great to work with. The "arts district" over this side is also really exciting, being so close to NZ Artbroker, City Art Depot, the Jonathan Smart Gallery, Form and Chambers Gallery. We hope we can add our unique offering to this mix of amazing art galleries.
Opening its doors on February 12th, the gallery has new opening hours, exhibitions and projects in the pipeline for 2021. All services are back up and running, including Fiksate Framing, the monthly Risograph Print releases in conjunction with MK Press and a new fine art screen printing service and monthly releases.
The new gallery space is flooded with natural light and also spotlights (a first for Fiksate), and will continue to showcase the top urban artists from around Aotearoa New Zealand and the world. 'We are aiming to hold four "main event" solo/group exhibitions this year with two very exciting exhibitions locked in. The first will be opening in April with an exciting up and coming local artist and the second solo exhibition in June will be massive.'
'We will continue to add to our "stockroom hang"that we present in between the "main event" exhibitions, and this will continue to include select works from artists we admire, are killing it in their field of expertise, and we are honored to work with.'
'The studio space will continue to host Wednesday night workshops, fortnightly alternating between "Slapcity", (a sticker and paste-up making night) and "Wahine Wednesday", an open studio session for creative women looking for space and time to focus on their creativity. A huge thanks goes out to all the team involved in the move, the amazing artists we showcase and our loyal followers, supporters and customers who believe in what we do.'
DETAILS
More information about these and other events are on Fiksate's website or contact jenna@fiksate.com. Customer parking is located directly in front of the gallery or around the surrounding streets. Fiksate Gallery's new opening hours are: Tuesday – Thursday: 10am – 5pm, Friday: 10am – 7pm, Saturday: 10am – 4pm
IMAGE
Fiksate's new gallery and studio space at 54 Hawdon Street in Sydenham