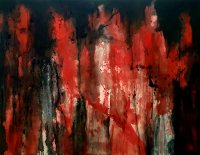 Murray & Co is well-known as an investment banking firm in Aotearoa, where over the last 10 years it has also had an additional and significant role through its resolute commitment to the arts in Ōtautahi, creating opportunities for emerging artists and exhibiting their work through annual exhibitions since 2012. Installing exhibitions in a post-quake city with a rigour and regularity, Murray & Co has made good use of the city's renovated and new buildings. The list of exhibition venues include: The National Bank Building, The Piano in Armagh Street and, in 2022, the new office premises of investment banking firm, Murray & Co.
These exhibitions have introduced the work of many recent graduates from the Ilam School of Fine Arts to dealer galleries and the wider community. Led by Clare Murray, her commitment to creating these exhibitions was shaped by the aftermath of the February earthquakes and the scale of destruction of the city's infrastructure and galleries. Pre-quake, Murray remembers visiting galleries with her children, and the immediate loss of that experience in 2011; 'there had to be a way to showcase art again quickly, to support the artists that had lost so much, but also to bring enjoyment back into people's lives again through the arts using a common sense formula.'
Since 2012, Murray & Co has featured the work of many artists who are now professionally established, the list of names include, Rachael Dewhirst, Rebecca Harris, Thomas Hancock and Donna-Marie Patterson. 'It's great to see many of the exhibiting artists go on to the next level, for example, from 2012, student Clarissa Lim went on to study at London's Royal College of Art.'
In 2022, the four participating artists in the exhibition are Barbara Boekelman, Hana Olsen, Chloe Summerhayes and Jillian Wordsworth. Olsen graduated from the Ilam School of Fine Arts in 2021 with honours and her current practice looks at different ideas from Aoteraroa's history, contemporary culture and feminism. Recently her work has shifted, in particular denoting emotional references to specific places in abstract images. Her work in Murray and Co's office looks at the relationship between the self and the outside world through the lens of painting, exploring where she grew up, and deconstructing remembered realities into a more emotive response.
Chloe Summerhayes' art practice is informed by questions and ideas around the cyclical nature of ourselves and our environments. She comments: 'Rubenesque putti reappear throughout this series of works, suggesting narratives and inviting interpretation. I'm interested in paintings referencing paintings and the circular and responsive way in which so much art is made. A methodical and conversational process is used to construct preliminary paintings, and these become referenced imagery for more paintings, the subsequent work like a process reversal of the initial paintings they are born from.'
Barbara Boekelman's painting is influenced and informed by her previous background in journalism. 'The recurring narrative in my work is often socially or politically driven, and always close to my heart - I use representational imagery as a point of departure to a predominant abstraction, fusing colour and form. Foreground and background continuously shift in this exercise of concealing and revealing.' Boekelman is a New Zealand-based artist from Amsterdam, attending art school in the Netherlands in the late eighties. After a 20+ year distraction, concentrating on a career in journalism and television, she embarked on her MFA at Ilam School of Fine Arts.
Jillian Wordsworth's arts practice has its origins in her rural childhood in Canterbury and later in Lower Hutt, raising children of her own and developing a passion for art through community workshops and classes, progressively exhibiting and selling her art, with many works now held in private and corporate collections. Predominantly a painter of contemporary landscapes, Wordsworth incorporates objects and symbols in her paintings, exploring issues of heritage and identity, centred upon the land as a subject about 'binary opposites, physical and spiritual, a journey of the imagination and of wondering what lies beyond.'
This year, an added dimension to Murray & Co's programme is enabling an emerging curator, Monica Wang, to manage the exhibition for the first time. 'Monica has done much of the liaising and organising to create two public events at Murray & Coin May and June comprising four artists in conversation. Artists working in the fine arts can be alone in their studio for so long and the emerging curator plays a role in drawing them into the limelight through this programme.'
DETAILS
Murray and Co – Emerging Artists in Conversation
Barbara Boekelman and Chloe Summerhayes. Friday 27 May 11.30am - 12.30pm
Hana Olsen and Jillian Wordsworth. Friday 17 June 11.30am – 12.30pm
Admission free, only by booking in advance through Eventbrite :https://murrayandco-emerging-artists-in-conversation.eventbrite.co.nz; or contact rebecca.bone@murrays.co.nz
IMAGES
Barbara Boekelman, Meat, 2021, Oil, oil pastel, ink and charcoal on canvas
Jillian Wordsworth, Interrogating darkness, searching for the light, 2021, hand-ground mineral pigments, commercial pigments and mica in hide glue on canvas