Article
ArtBeat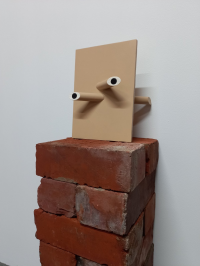 I'll be honest, when initially entering into Julian Hooper's Mirror Falls I felt like I was entering a puzzle. Cues, colours and arrangements seemed to reassure me into the familiar and unfamiliar simultaneously.
All is not what it seems. Each work felt as though it was crafting an illusion or perhaps revealing a code to unlock something strange. A work that stood out to me first was Ringo. What appeared to be a painting encased within a wooden frame is in fact canvas attached to another canvas. The "wooden frame" is painted on with dashes of dark brown to look like a wood grain texture. It is not perfectly realistic however and almost bordering on comical. The composition is symmetrical and the chain links seem almost translucent, contradicting the robustness of a real physical chain. The stark red background leads me to wonder what environment this exists within.
Another work that stood out to me was Zagnut. I firstly enjoyed the name, but then I noticed how the "holes" in the wooden pipes were black circles painted on and the "wood" is actually brown paint; another illusion. Physically, the object is quite domestic from a distance. I think about a child's wooden train set or book ends. However the object is completely impractical and illogical; but maybe that's because it belongs to a different place.
Ruminating over Mirror Falls, I can't help but think of the 'silencio' scene in Mulholland Drive. To me this scene depicted a halfway point between reality and the supernatural. The magic reveals reality but simultaneously a portal to an alternate realm. The works within this show give clues and cues to the world I am familiar with; symmetrical composition, stacked bricks and pictures hanging on the wall. However there were moments that would throw me off balance through the illusionary and absurd. Paludal is a small and intimate space and the perfect space to inhabit Hooper's works; the textures feel like they are a part of the show. The stacked bricks to support Rolo, connect with Paludal's brick walls and the exposed concrete contrasts nicely with the chain links.
Overall, I really enjoyed how Mirror Falls allowed me to question my reality and to take a glimpse into another realm. I have been thinking about the show a lot since viewing and I have realised that the puzzle was never one to solve but to contemplate.
DETAILS
Julian Hooper
Mirror Falls
Paludal 5/2 Papanui Road, Christchurch
6 – 28 August
IMAGE
Julian Hooper,Zagnut, 2019, plywood, dowel, acrylic. Courtesy of Ivan Anthony, photo James Oram