News
ArtBeat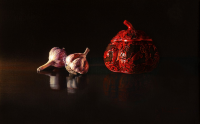 Anita May Blanchett, Judy Curnow and Sarah Ford make up Inspired by Nature, bringing together paintings by Blanchett and Curnow with ceramics and sculpture by Ford.
Blanchett took up painting in 1997, following a visit to Florence and meeting with renowned landscape painter, Tim Wilson who challenged her to become a serious painter. She spent six years experimenting in many mediums, grounds and methods and in 2004 Wilson invited her to work in situ with him, beginning a four year full-time apprenticeship, learning his painting techniques and forging a friendship in the process.
Her still life paintings are created with thin layers of glazes with a fine finish. Trained as a filmmaker and photographer, the latter is an important part of her process. She comments that the more she paints, the more she sees, learns and evolves as a person and artist. 'The inspiration for me is in this journey.'
Also mentored by Wilson, Judy Curnow began painting in 2009 and says that he changed her life. 'Tim was such an inspiration, generously sharing techniques that would have taken him many years to perfect. He taught me to be more confident when painting with oils and that there are no shortcuts to painting.'
Curnow's and Blanchett's paintings are accompanied by sculptures in stoneware, copper wire and wrought iron by Sarah Ford, an artist influenced by her mother and pottery friends. Her early experience was gained with conventional potting and anagama kiln firing and salt glazing. In recent years she has become interested in bird and sea life as subjects for various themes, exhibiting widely in Canterbury in group and solo exhibitions that have included the Canterbury Society of Arts, (now COCA), the Akaroa Art Gallery and Aigantighe Art Gallery. Ford has work in the collections of the Christchurch College of Education and Canterbury Museum.
DETAILS
Judy Curnow, Sarah Ford and Anita May Blanchett, Inspired by Nature
Orion Powerhouse Art Gallery Akaroa
1 Rue Pompallier, Akaroa
27 February -21 March

IMAGE
Anita May Blanchett, Red Gourd with Garlic, oil on Belgian linen