Article
ArtBeat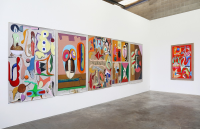 Mark Braunias' In Search of the Saccharine Underground outwardly headlines its intentions with the allegorical promise of candy-coloured sweetness – and those visiting will not be disappointed, the subjects of his paintings delivering their Looney-Tunes moments and high-key colours with attitude – but as Braunias lets us know, everything in life is a little more complicated than all those outward appearances.
For In Search of the Saccharine Underground he is dealing to the beating heart of his practice and its reach alongside the work of other artists with his paintings and works on paper animated and supported by hand-blown borosilicate glass sculptures, a collaboration with glass artist Jarred Wright and quilts a collaboration with quilt-maker Brenda Ronowicz, making In Search of the Saccharine Underground a glorious visual experience
In highlighting an encounter with his work in an exhibition title that is essentially a public announcement about the rigour of Braunias' art, he has decided to further unravel and reveal more in the notes he provides to accompany his work. He makes a connection between the outwardly 'wacky' personalities of his subjects, the duality of the centrality of their humour and darker realities of their behaviours. It is a paradox that Braunias chooses to express within the context of popular 'sacchharine' music from the late 1960s. A reminder that although The Beatle's B-side single Revolution had set the benchmark for what popular music should arguably be about at that time, questioning the politics of world leaders at the expense of more outwardly upbeat messages of the pop music's hit parade. Braunias serves up a reminder that popular music in the late 60s and early 1970s could be cheesy and as such was assumed not to be part of any serious music scene. However, a darker mood under the sweetness of such music could also feature a surprising gravitas. (for example: American band Nazz)
In doing so, Braunias implicitly speaks to the dilemma and demands of the experience of his work. So, yes there are large and small scale paintings that are rowdy and manic in colour and attitude, insisting that they be noticed, yet they also reveal a subtle and complex presence of multi-layered messages about frustration, joy, inspiration, anger and reconciliation – fundamental stuff about the very nature of human behaviour.
DETAILS
Mark Braunias, In Search of the Saccharine Underground
Jonathan Smart Gallery
52 Buchan Street, Sydenham
8 October – 20 November
IMAGE
Mark Braunias, In Search of the Saccharine Underground, front gallery installation. Photograph: Vicki Piper