Article
ArtBeat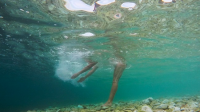 The newly appointment lead curator at Christchurch Art Gallery Te Puna o Waiwhetū, Felicity Milburn, says that since its post-earthquake reopening in December 2015 the gallery is entering a different phase.
Expect to experience a refreshed hang of the gallery's permanent collection, curated from the perspective of being part of the Pacific, rather than an English outpost, and an exhibition programme that acknowledges shifting visitor demographics, taking into account all those who have come to Ōtautahi Christchurch for the rebuild, and others just beginning to find their way back into the central city.
Overseeing the delivery of these new developments after taking over from Dr Lara Strongman, Milburn notes that throughout more than twenty years with Christchurch Art Gallery Te Puna o Waiwhetū she has seen it evolve through many different stages. She identifies the present moment as an especially significant and interesting time to think about how the Gallery might position itself within the new Christchurch.
'I started out at the McDougall Contemporary Art Annex, working within a contemporary-focused, project-based situation, and later worked in the Robert McDougall Art Gallery as it made the transition to the current building on Montreal Street as a new institution.'
'Following the earthquakes, I worked with the team on our post-earthquake Outer Spaces programme. Some projects directly addressed the effects of the earthquake and rebuild, but most were simply intended to enliven and enrich the experience of the city, adding moments of surprise, connection and humour. The Gallery played an important role, alongside other groups like Gapfiller, in ensuring that art was present and visible – an integral, non-negotiable part of the rebuilding city. It was logistically-complex, but meaningful work, and ultimately, I think, very successful. Projects like Wayne Youle's mural, (I seem to have temporarily lost my sense of humour, 2011 – 2015), Michael Parekowhai's Chapman's Homer (a bronze bull on a piano set against the cordoned-off central city) and Burster Flipper Wobbler Dripper Spinner Stacker Shaker Maker, the family exhibition in our temporary 'ArtBox' gallery – these are often the kinds of images that people talk about when they recall that post-quake moment. For many, the arts are front and centre in that collective memory.'
'Now is the time to make sure that we don't lose that sense of focus around the arts. I want art to be as essential to the nature of Ōtautahi Christchurch as it has been through different periods in the city's history, and was immediately after the earthquakes. The gallery has to maintain that sense of relevance by being a place of genuine and memorable art encounters.'
'We're offering, in many different ways, connections between your point of view and someone else's. That's the beauty and value of art: seeing the world through someone else's eyes, encountering and testing new ideas and perspectives. Sometimes it concentrates and accentuates your view, sometimes it throws you off balance and challenges you to understand the world in a different way.'
Milburn says that her recent curation of the group exhibition, Wheriko – Brilliant! an immersive and sensory experience about the artistic possibilities of light, centred on creating the kind of exhibition experience that people could connect with in a number of different levels. "You don't need to bring a broad knowledge of art with you to get a lot out of it, but if you do know your art then Wheriko – Brilliant! is still a very satisfying and faceted experience - it's not a one-note exhibition.'
'There are many ways to create exhibitions and we are open to exploring a range of approaches. For Turn, Turn, Turn: A Year in Art, two things connect the works Ken Hall and I selected. One is a focus on how the seasons change our experience of the landscape and daily life, the other is the fact they are all from the gallery's collection. We really wanted to convey the breadth of the gallery's collection; how traditional paintings bump up against Chinese snuff boxes, how it is full of beauty, humour and oddness. I've watched visitors in Turn, Turn, Turn appreciating that sense of difference and discovery. As they walk around it, they are making connections that have previously never existed between those works, in many cases they're connections that we never anticipated when we were curating it.'
Certainly, Turn, Turn, Turn, includes many works that have been rarely seen. A highlight is Russell Clark's Beach Figure 1, 1963 a large sculpture nearly 2 metres high and 2 metres wide, inspired by a figure the artist saw on a visit to New Brighton beach, standing with her towel blowing against her body.
Milburn singles out John Coley's Rain, Rain,Philip Trusttum's Still Life (Garden), 1973 and Olivia Spencer Bower's The Verandah as particular favourites. 'Rain Rain is deceptively simple, but when you look a little longer you start to recognise all the choices the artist has made; the typography, the colours, how all the elements combine to create a vivid picture in your mind of a day when the sky is absolutely chucking it down.'
'Philip Trusttum's Still Life (Garden) is from one of my favourite periods of his practice – though I have a few! It was made at a really interesting time, after his return from Europe where he had walked himself through the history of painting. He was casting about trying to find his next move as an artist. He turned to his back garden and made this series of intense, vivid paintings you can't help but get caught up in. I love the unrelenting tactility of that work. And there's something both wild and delicate about Olivia Spencer Bower's painting – it's a relaxed domestic scene, but you can feel the wind that's tossing the trees around.'
'A large percentage of our regular audience visit the collection for what I'd call 'communing'. They want to see those familiar, beloved works that have been part of the collection for a long time – and those works don't lose their currency, we love showing them. We've have done a lot of work over the years, such as our recent exhibition 'Closer', to offer new ways to look at and connect with the collection. We want to get people beyond what I call the 'coaster and tea-towel' experience, where you don't really experience the works because you have seen them so many times.'
'Turn Turn Turn also represents something important about the nature of public collections. People sometimes think of them as very orderly, neatly categorised into styles, dates and artists, but historically works have come into the collection for a range of reasons. They reflect changing times, changing ideas, and changing priorities. Our collection, like all collections, isn't a seamless, cohesive whole with a full-stop at one end; it's a living thing. Every new acquisition brings with it the possibility to consider other works in new ways.'
'One of the big projects all of the curatorial team is working on at present is a re-hang of the collection in the gallery's spaces upstairs. This time we wanted to step aside from a conventional and fairly binary art historical approach that looks almost exclusively back to Europe to find artistic legacies and instead start to think how works in the collection connect with our place here in Te Moana nui-a-kiwa, the Pacific Ocean.'
Starting in the Pacific and stretching out, we are exploring how a selection of contemporary and historical works from a range of cultures can make connections across time and space. We've used the image of Te Wheke, the Octopus, which has sometimes been used to depict the reach of migratory journeys throughout the Pacific. We've included a number of new acquisitions, but the exhibition also provides new contexts for old favourites. It's all part of keeping the collection humming and alive, offering new ways of looking at and thinking about the world.'
'For me, one of the highlights of the exhibition is a fantastic new acquisition, a video by Angela Tiatia, an artist who was born in New Zealand, and has Samoan and Chinese heritage. She now works mainly in Australia, but this work, Lick, was filmed off the waters of Tuvalu, the South Pacific nation endangered by rising sea levels as a consequence of human-driven climate change. In Lick, Tiatia stands on a small piece of rock, fighting to hold her balance as the incoming tide threatens to wash off her feet.'
'Lick is the centrepiece of a grouping of works I have brought together that present the Pacific as a site of vulnerability but also resistance. I was thinking about the many protest works that have been made within and beyond Aoteroa New Zealand, in response to environmental threats like the Aramoana smelter, or as part of the campaign to rid the Pacific of nuclear testing. That selection of works, which also features an enormous sculpture called 'Etu iti by Ani O'Neill, and specially-made works by New Brighton-based artist Melissa Macleod, is called He Toka Tū moana. The title is a Maori whakatoki that describes a rock that stands upright in the ocean. It can be used to describe a person who is strong and resilient in their beliefs, standing up against opposing forces.'
IMAGES
Russell Clark, Beach Figure I, 1963, collection of Christchurch Art Gallery Te Puna o Waiwhetū
Angela Tiatia, Lick, (still from the video), collection of Christchurch Art Gallery Te Puna o Waiwhetū; purchased 2018