Kris Waldin- Near and Far
Sun 27 Jan 2019, 12:00 am
Sun 03 Mar 2019, 04:00 pm
Arts in Oxford Gallery
72 Main St Oxford 7430 Canterbury Aotearoa / New Zealand
Oxford
Mon 28 Jan 2019, 12:00 am
Mon 04 Mar 2019, 04:00 pm
Arts in Oxford Gallery
72 Main St Oxford 7430 Canterbury Aotearoa / New Zealand
Oxford
Tue 29 Jan 2019, 12:00 am
Tue 05 Mar 2019, 04:00 pm
Arts in Oxford Gallery
72 Main St Oxford 7430 Canterbury Aotearoa / New Zealand
Oxford
Wed 30 Jan 2019, 12:00 am
Wed 06 Mar 2019, 04:00 pm
Arts in Oxford Gallery
72 Main St Oxford 7430 Canterbury Aotearoa / New Zealand
Oxford
Thu 31 Jan 2019, 12:00 am
Thu 07 Mar 2019, 04:00 pm
Arts in Oxford Gallery
72 Main St Oxford 7430 Canterbury Aotearoa / New Zealand
Oxford
Fri 01 Feb 2019, 12:00 am
Fri 08 Mar 2019, 04:00 pm
Arts in Oxford Gallery
72 Main St Oxford 7430 Canterbury Aotearoa / New Zealand
Oxford
Sat 02 Feb 2019, 12:00 am
Sat 09 Mar 2019, 04:00 pm
Arts in Oxford Gallery
72 Main St Oxford 7430 Canterbury Aotearoa / New Zealand
Oxford
Sun 03 Feb 2019, 12:00 am
Sun 10 Mar 2019, 04:00 pm
Arts in Oxford Gallery
72 Main St Oxford 7430 Canterbury Aotearoa / New Zealand
Oxford
Mon 04 Feb 2019, 12:00 am
Mon 11 Mar 2019, 04:00 pm
Arts in Oxford Gallery
72 Main St Oxford 7430 Canterbury Aotearoa / New Zealand
Oxford
Tue 05 Feb 2019, 12:00 am
Tue 12 Mar 2019, 04:00 pm
Arts in Oxford Gallery
72 Main St Oxford 7430 Canterbury Aotearoa / New Zealand
Oxford
Wed 06 Feb 2019, 12:00 am
Wed 13 Mar 2019, 04:00 pm
Arts in Oxford Gallery
72 Main St Oxford 7430 Canterbury Aotearoa / New Zealand
Oxford
Thu 07 Feb 2019, 12:00 am
Thu 14 Mar 2019, 04:00 pm
Arts in Oxford Gallery
72 Main St Oxford 7430 Canterbury Aotearoa / New Zealand
Oxford
Fri 08 Feb 2019, 12:00 am
Fri 15 Mar 2019, 04:00 pm
Arts in Oxford Gallery
72 Main St Oxford 7430 Canterbury Aotearoa / New Zealand
Oxford
Sat 09 Feb 2019, 12:00 am
Sat 16 Mar 2019, 04:00 pm
Arts in Oxford Gallery
72 Main St Oxford 7430 Canterbury Aotearoa / New Zealand
Oxford
Sun 10 Feb 2019, 12:00 am
Sun 17 Mar 2019, 04:00 pm
Arts in Oxford Gallery
72 Main St Oxford 7430 Canterbury Aotearoa / New Zealand
Oxford
Mon 11 Feb 2019, 12:00 am
Mon 18 Mar 2019, 04:00 pm
Arts in Oxford Gallery
72 Main St Oxford 7430 Canterbury Aotearoa / New Zealand
Oxford
7 days ago, Tue 12 Feb 2019, 12:00 am
Tue 19 Mar 2019, 04:00 pm
Arts in Oxford Gallery
72 Main St Oxford 7430 Canterbury Aotearoa / New Zealand
Oxford
6 days ago, Wed 13 Feb 2019, 12:00 am
Wed 20 Mar 2019, 04:00 pm
Arts in Oxford Gallery
72 Main St Oxford 7430 Canterbury Aotearoa / New Zealand
Oxford
5 days ago, Thu 14 Feb 2019, 12:00 am
Thu 21 Mar 2019, 04:00 pm
Arts in Oxford Gallery
72 Main St Oxford 7430 Canterbury Aotearoa / New Zealand
Oxford
4 days ago, Fri 15 Feb 2019, 12:00 am
Fri 22 Mar 2019, 04:00 pm
Arts in Oxford Gallery
72 Main St Oxford 7430 Canterbury Aotearoa / New Zealand
Oxford
3 days ago, Sat 16 Feb 2019, 12:00 am
Sat 23 Mar 2019, 04:00 pm
Arts in Oxford Gallery
72 Main St Oxford 7430 Canterbury Aotearoa / New Zealand
Oxford
2 days ago, Sun 17 Feb 2019, 12:00 am
Sun 24 Mar 2019, 04:00 pm
Arts in Oxford Gallery
72 Main St Oxford 7430 Canterbury Aotearoa / New Zealand
Oxford
46 hours ago, Mon 18 Feb 2019, 12:00 am
Mon 25 Mar 2019, 04:00 pm
Arts in Oxford Gallery
72 Main St Oxford 7430 Canterbury Aotearoa / New Zealand
Oxford
22 hours ago, Tue 19 Feb 2019, 12:00 am
Tue 26 Mar 2019, 04:00 pm
Arts in Oxford Gallery
72 Main St Oxford 7430 Canterbury Aotearoa / New Zealand
Oxford
Wed 20 Feb 2019, 12:00 am
Wed 27 Mar 2019, 04:00 pm
Arts in Oxford Gallery
72 Main St Oxford 7430 Canterbury Aotearoa / New Zealand
Oxford
Thu 21 Feb 2019, 12:00 am
Thu 28 Mar 2019, 04:00 pm
Arts in Oxford Gallery
72 Main St Oxford 7430 Canterbury Aotearoa / New Zealand
Oxford
Fri 22 Feb 2019, 12:00 am
Fri 29 Mar 2019, 04:00 pm
Arts in Oxford Gallery
72 Main St Oxford 7430 Canterbury Aotearoa / New Zealand
Oxford
Sat 23 Feb 2019, 12:00 am
Sat 30 Mar 2019, 04:00 pm
Arts in Oxford Gallery
72 Main St Oxford 7430 Canterbury Aotearoa / New Zealand
Oxford
Sun 24 Feb 2019, 12:00 am
Sun 31 Mar 2019, 04:00 pm
Arts in Oxford Gallery
72 Main St Oxford 7430 Canterbury Aotearoa / New Zealand
Oxford
Mon 25 Feb 2019, 12:00 am
Mon 01 Apr 2019, 04:00 pm
Arts in Oxford Gallery
72 Main St Oxford 7430 Canterbury Aotearoa / New Zealand
Oxford
Tue 26 Feb 2019, 12:00 am
Tue 02 Apr 2019, 04:00 pm
Arts in Oxford Gallery
72 Main St Oxford 7430 Canterbury Aotearoa / New Zealand
Oxford
Wed 27 Feb 2019, 12:00 am
Wed 03 Apr 2019, 04:00 pm
Arts in Oxford Gallery
72 Main St Oxford 7430 Canterbury Aotearoa / New Zealand
Oxford
Thu 28 Feb 2019, 12:00 am
Thu 04 Apr 2019, 04:00 pm
Arts in Oxford Gallery
72 Main St Oxford 7430 Canterbury Aotearoa / New Zealand
Oxford
Fri 01 Mar 2019, 12:00 am
Fri 05 Apr 2019, 04:00 pm
Arts in Oxford Gallery
72 Main St Oxford 7430 Canterbury Aotearoa / New Zealand
Oxford
Sat 02 Mar 2019, 12:00 am
Sat 06 Apr 2019, 04:00 pm
Arts in Oxford Gallery
72 Main St Oxford 7430 Canterbury Aotearoa / New Zealand
Oxford
Sun 03 Mar 2019, 12:00 am
Sun 07 Apr 2019, 04:00 pm
Arts in Oxford Gallery
72 Main St Oxford 7430 Canterbury Aotearoa / New Zealand
Oxford
Exhibitions, Visual Arts, Painting, Canterbury Region
Wheelchair access, Accessible toilets, Mobility parking
Opening 3pm Sunday 27 January 2019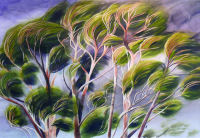 Arts in Oxford Gallery presents Kris Waldin: Near and Far, select figure drawings, botanical illustrations, landscape paintings and found object mono prints.
Kris was born in Christchurch in 1971 and studied art and design at Christchurch Polytechnic, graduating in 1992 with a diploma of Visual Communications. She has since worked as a graphic designer and illustrator along with some time away travelling before taking up painting full-time in 2010.
Kris works from her studio in Summerhill looking out over the Oxford Ranges towards Glentui and Mt Thomas. She is constantly inspired by the local landscape and natural world around her and is often out walking in the local bush or down at the Rakahuri River which is close by.
Event Dates
Arts in Oxford Gallery
Oxford
72 Main St Oxford 7430 Canterbury Aotearoa / New Zealand

Sun 27 Jan 2019, 12:00 am
Sun 03 Mar 2019, 04:00 pm
Arts in Oxford Gallery
Oxford
72 Main St Oxford 7430 Canterbury Aotearoa / New Zealand

Mon 28 Jan 2019, 12:00 am
Mon 04 Mar 2019, 04:00 pm
Arts in Oxford Gallery
Oxford
72 Main St Oxford 7430 Canterbury Aotearoa / New Zealand

Tue 29 Jan 2019, 12:00 am
Tue 05 Mar 2019, 04:00 pm
Arts in Oxford Gallery
Oxford
72 Main St Oxford 7430 Canterbury Aotearoa / New Zealand

Wed 30 Jan 2019, 12:00 am
Wed 06 Mar 2019, 04:00 pm
Arts in Oxford Gallery
Oxford
72 Main St Oxford 7430 Canterbury Aotearoa / New Zealand

Thu 31 Jan 2019, 12:00 am
Thu 07 Mar 2019, 04:00 pm
Arts in Oxford Gallery
Oxford
72 Main St Oxford 7430 Canterbury Aotearoa / New Zealand

Fri 01 Feb 2019, 12:00 am
Fri 08 Mar 2019, 04:00 pm
Arts in Oxford Gallery
Oxford
72 Main St Oxford 7430 Canterbury Aotearoa / New Zealand

Sat 02 Feb 2019, 12:00 am
Sat 09 Mar 2019, 04:00 pm
Arts in Oxford Gallery
Oxford
72 Main St Oxford 7430 Canterbury Aotearoa / New Zealand

Sun 03 Feb 2019, 12:00 am
Sun 10 Mar 2019, 04:00 pm
Arts in Oxford Gallery
Oxford
72 Main St Oxford 7430 Canterbury Aotearoa / New Zealand

Mon 04 Feb 2019, 12:00 am
Mon 11 Mar 2019, 04:00 pm
Arts in Oxford Gallery
Oxford
72 Main St Oxford 7430 Canterbury Aotearoa / New Zealand

Tue 05 Feb 2019, 12:00 am
Tue 12 Mar 2019, 04:00 pm
Arts in Oxford Gallery
Oxford
72 Main St Oxford 7430 Canterbury Aotearoa / New Zealand

Wed 06 Feb 2019, 12:00 am
Wed 13 Mar 2019, 04:00 pm
Arts in Oxford Gallery
Oxford
72 Main St Oxford 7430 Canterbury Aotearoa / New Zealand

Thu 07 Feb 2019, 12:00 am
Thu 14 Mar 2019, 04:00 pm
Arts in Oxford Gallery
Oxford
72 Main St Oxford 7430 Canterbury Aotearoa / New Zealand

Fri 08 Feb 2019, 12:00 am
Fri 15 Mar 2019, 04:00 pm
Arts in Oxford Gallery
Oxford
72 Main St Oxford 7430 Canterbury Aotearoa / New Zealand

Sat 09 Feb 2019, 12:00 am
Sat 16 Mar 2019, 04:00 pm
Arts in Oxford Gallery
Oxford
72 Main St Oxford 7430 Canterbury Aotearoa / New Zealand

Sun 10 Feb 2019, 12:00 am
Sun 17 Mar 2019, 04:00 pm
Arts in Oxford Gallery
Oxford
72 Main St Oxford 7430 Canterbury Aotearoa / New Zealand

Mon 11 Feb 2019, 12:00 am
Mon 18 Mar 2019, 04:00 pm
Arts in Oxford Gallery
Oxford
72 Main St Oxford 7430 Canterbury Aotearoa / New Zealand

7 days ago, Tue 12 Feb 2019, 12:00 am
Tue 19 Mar 2019, 04:00 pm
Arts in Oxford Gallery
Oxford
72 Main St Oxford 7430 Canterbury Aotearoa / New Zealand

6 days ago, Wed 13 Feb 2019, 12:00 am
Wed 20 Mar 2019, 04:00 pm
Arts in Oxford Gallery
Oxford
72 Main St Oxford 7430 Canterbury Aotearoa / New Zealand

5 days ago, Thu 14 Feb 2019, 12:00 am
Thu 21 Mar 2019, 04:00 pm
Arts in Oxford Gallery
Oxford
72 Main St Oxford 7430 Canterbury Aotearoa / New Zealand

4 days ago, Fri 15 Feb 2019, 12:00 am
Fri 22 Mar 2019, 04:00 pm
Arts in Oxford Gallery
Oxford
72 Main St Oxford 7430 Canterbury Aotearoa / New Zealand

3 days ago, Sat 16 Feb 2019, 12:00 am
Sat 23 Mar 2019, 04:00 pm
Arts in Oxford Gallery
Oxford
72 Main St Oxford 7430 Canterbury Aotearoa / New Zealand

2 days ago, Sun 17 Feb 2019, 12:00 am
Sun 24 Mar 2019, 04:00 pm
Arts in Oxford Gallery
Oxford
72 Main St Oxford 7430 Canterbury Aotearoa / New Zealand

46 hours ago, Mon 18 Feb 2019, 12:00 am
Mon 25 Mar 2019, 04:00 pm
Arts in Oxford Gallery
Oxford
72 Main St Oxford 7430 Canterbury Aotearoa / New Zealand

22 hours ago, Tue 19 Feb 2019, 12:00 am
Tue 26 Mar 2019, 04:00 pm
Arts in Oxford Gallery
Oxford
72 Main St Oxford 7430 Canterbury Aotearoa / New Zealand

Wed 20 Feb 2019, 12:00 am
Wed 27 Mar 2019, 04:00 pm
Arts in Oxford Gallery
Oxford
72 Main St Oxford 7430 Canterbury Aotearoa / New Zealand

Thu 21 Feb 2019, 12:00 am
Thu 28 Mar 2019, 04:00 pm
Arts in Oxford Gallery
Oxford
72 Main St Oxford 7430 Canterbury Aotearoa / New Zealand

Fri 22 Feb 2019, 12:00 am
Fri 29 Mar 2019, 04:00 pm
Arts in Oxford Gallery
Oxford
72 Main St Oxford 7430 Canterbury Aotearoa / New Zealand

Sat 23 Feb 2019, 12:00 am
Sat 30 Mar 2019, 04:00 pm
Arts in Oxford Gallery
Oxford
72 Main St Oxford 7430 Canterbury Aotearoa / New Zealand

Sun 24 Feb 2019, 12:00 am
Sun 31 Mar 2019, 04:00 pm
Arts in Oxford Gallery
Oxford
72 Main St Oxford 7430 Canterbury Aotearoa / New Zealand

Mon 25 Feb 2019, 12:00 am
Mon 01 Apr 2019, 04:00 pm
Arts in Oxford Gallery
Oxford
72 Main St Oxford 7430 Canterbury Aotearoa / New Zealand

Tue 26 Feb 2019, 12:00 am
Tue 02 Apr 2019, 04:00 pm
Arts in Oxford Gallery
Oxford
72 Main St Oxford 7430 Canterbury Aotearoa / New Zealand

Wed 27 Feb 2019, 12:00 am
Wed 03 Apr 2019, 04:00 pm
Arts in Oxford Gallery
Oxford
72 Main St Oxford 7430 Canterbury Aotearoa / New Zealand

Thu 28 Feb 2019, 12:00 am
Thu 04 Apr 2019, 04:00 pm
Arts in Oxford Gallery
Oxford
72 Main St Oxford 7430 Canterbury Aotearoa / New Zealand

Fri 01 Mar 2019, 12:00 am
Fri 05 Apr 2019, 04:00 pm
Arts in Oxford Gallery
Oxford
72 Main St Oxford 7430 Canterbury Aotearoa / New Zealand

Sat 02 Mar 2019, 12:00 am
Sat 06 Apr 2019, 04:00 pm
Arts in Oxford Gallery
Oxford
72 Main St Oxford 7430 Canterbury Aotearoa / New Zealand

Sun 03 Mar 2019, 12:00 am
Sun 07 Apr 2019, 04:00 pm