Support the Permanent Installation of David McCracken's Diminish and Ascend in Kiosk Lake, Botanic Gardens
Tue 09 Apr 2019, 04:16 pm
Sun 19 May 2019, 12:00 am
https://www.boosted.org.nz/projects/wanted-artwork-for-the-gardens
David McCracken, Diminish and Ascend Kiosk Lake Botanic Gardens
Christchurch
Visual Arts, Community Arts, Fundraising,
Wheelchair access, Accessible toilets, Mobility parking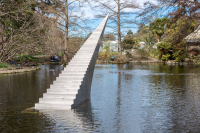 Installed in Kiosk Lake in the Botanic Gardens for SCAPE's 2016 festival, David McCracken's Diminish and Ascend has become a favoured attraction for Christchurch residents and tourists. Initially intended to be a temporary festival work, Christchurch City Council's announcement in 2018 that it is to become a permanent artwork for the city is welcome news. For this reason, SCAPE is seeking the remaining funds for Diminish and Ascend, to secure its foundations in Kiosk Lake with a necessary target of $20,000 towards its realisation.
How did it all come about? McCracken is a sculptor with a background in performance and film and he says that the original idea for Diminish and Ascend came from its name: 'A group of us were talking about a performance and something was said about making something smaller and smaller that would be about diminish and ascend. I remember doing a sketch and immediately thinking: There is a perspective gag in there. Diminish and Ascend literally is a staircase that requires you to get smaller as you go up. There is a punning aspect to it.'
In 2014, Diminish and Ascend was featured in Sculpture by the Sea in Sydney, followed by Sculpture on the Gulf on Waiheke Island. It was then seen by SCAPE curator Heather Galbraith in 2015, making its debut in Christchurch in SCAPE's 2016 festival. McCracken recalls: 'I had always thought that work was very difficult to place publicly for obvious OSH reasons. Various people have been interested in placing it in Auckland but none of us could get around the "where do you put it?"
Since 2016, Diminish and Ascend has found its home in the Botanic Gardens and it all came down, (as McCracken notes), to 'the breakaway idea of putting it in a pond. Then it became so popular. I was totally taken by surprise. It is just one of those pieces that is now everywhere on the internet, it gets photographed and photographed.' To support and contribute to the completion of Diminish and Ascend, go to: https://www.boosted.org.nz/projects/wanted-artwork-for-the-gardens
IMAGES
David McCracken, Diminish and Ascend, welded aluminium, 2013, Kiosk Lake, Christchurch Botanic Gardens. Image courtesy of artist, Gow Langsford Gallery, Auckland and SCAPE Public Art