SCAPE 2019 - Rock- Paper- Scissors in the Central City
Sun 06 Oct 2019, 12:00 pm
Sat 16 Nov 2019, 05:00 pm
Central City
Central Christchurch, Arts Centre of Christchurch, Hagley Park, Christchurch Art Gallery, the East Frame, Ōtakaro Avon River Precinct
Christchurch
Free Entry Event, Arts Culture, Visual Arts, Festivals
Wheelchair access, Accessible toilets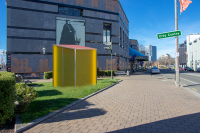 Rock: Paper: Scissors is a children's game of strategy and the title of SCAPE Public Art's 2019 Season, opening in Ōtautahi Christchurch the first week in October. Works and projects by 14 New Zealand and international artists will take up residence in the central city, Hagley Park, the East Frame and Ōtakaro Avon River Precinct until 16th November.
In 2019 the invited managing curator is Emma Bugden, former senior curator at The Dowse Art Museum in Wellington and also the Physics Room in Christchurch. She brings Rock: Paper: Scissors to the city as a concept that she says has some kind of meaning to most people. 'I wanted a theme that was loose enough to allow for a bit of space, but had connections and ideas that you would see threaded across the 14 artists' projects. I liked the idea that it is a game, but it is a game about negotiation that has a tension to it, about resolving issues. I also liked the materiality of the game. Rock; suggests ideas about land, Tūrangawaewae and place. Paper; which could be about writing, contracts and language, and Scissors; which suggests letting go.'
Bugden also acknowledges that while being managing curator for SCAPE's Season 2019 is exciting, so is being back in Christchurch. 'I was looking for an opportunity to re-engage with the city in a way that wasn't just about being a tourist. I have watched Christchurch grow and develop and wanted to be part of that. It was great to have that opportunity to come back and engage with the arts community and the wider city. I have been really fascinated by what is happening here. In so many ways it is an entirely new city and my time with SCAPE is a chance to engage with that.'
'Everyone outside Christchurch has seen new and interesting things happening, a lot of "pop-ups" and new conversations. There seems a lot of new energy and if you are not there, you just get to see versions of it through the media. It is a city that has grown with a visibly significant Ngā Tahu presence, front and centre in the CBD, that it didn't feel like it had when I lived here. That is very exciting.'
The SCAPE Season 2019 has also provided her with the opportunity to work with a number of local and international artists she has been wanting to for some time. Described as one of the most important contemporary Chinese sculptors work today, Sui Jianguo is Professor in Sculpture at the China Central Academy of Fine Arts. Bugden says that she met the artist 'on a Creative New Zealand artists' tours to Asia a few years ago. He is someone who works on such a large scale. His studio space is about the same size as many New Zealand museums. His work for SCAPE's Season 29019 is called Made in China and it is, literally, made in China.'
Made in China will be sited at the corner of Worcester Boulevard and Oxford Terrace. 'The way you read the work is as much about you as the work itself. You could think about it in terms of an anxiety you might have about where things are made and people are from. Christchurch used to have a great deal of industry in the city, as did New Zealand generally. And, at its most superficial level - it's a real selfie magnet.'
Bugden is also pleased to be working with Scottish artist Susan Philipsz. 'I first met her in 2006 in Helsinki and discovered the most beautiful and evocative work that I had ever encountered. Sometimes working with an artist is a slow burn. It was over ten years ago when I met Susan but you have these artists that you really want to work with and it takes time to find the right project.' Philipsz' Flow My Tears, 2010 can be heard and experienced at the James Hay Bridge in Victoria Square. Bugden says that her a cappella work will 'speak really beautifully to the city, allowing space for emotions and grief.'
Also invited to contribute to Rock: Paper: Scissors is Christchurch-born Ciaran Begley, a sculptor whose public art works are intended for public engagement and participation. 'He was perfect for SCAPE. His training in Christchurch at the School of Fine Arts was formative to his practice, but then living overseas for 20 years his work hasn't really been seen here. He wanted to re-engage with the city and also to work larger, with engineers, to push his practice further.'
Begley's steel sculptures are much larger than life origami works that invite the public to fold and manipulate. Begley's Spooky Action at a Distance will be located in the High Street that he remembers as the precinct where numerous galleries and cafes were located. Bugden says that it is an important project for the artist. 'He spent a lot of time in that area as a student, in the galleries, studios and cafes that used to populate that end of High Street. It has been great to realise a bigger version of his work. The cool thing about it is that even kids will be able to manipulate it.'
Budgen is also pleased to include Dunedin-based sculptor, Scott Eady 's Princess XL (fountain #1 and #20. 'He talks about masculinity, its problematic and troubled aspects in an honest way, as well as how to juggle parenting and an artist's life. The starting point for Princess XL was one summer when his garden got away on him. There was a large courgette that became a marrow, his son came in from the garden with it and assumed a classic pose. Eady thought "that is the history of sculpture right there." He cast the marrow in bronze and placed it on a bar stool. They're also functional water fountains so thirsty art audiences will be refreshed.'
'Conor Clarke has just moved to Christchurch to take up a position at the art school. She's Ngā Tahu but this is her first time living in the South Island, it's lovely to be able to welcome her and her work. Unchained Melody, 2018 is a sound piece and a digital video about water and the contradictions in our relationship to it. Water is hard at work in our cities while in the natural environment we want the sublime. Clarke's work is a poetic deliberation on the need to reconcile these traits.'
' 'My selection for SCAPE's Season 2019 is about a whole range of emotions. Some works are going to hail you up front and others take time to reveal themselves. There are so many audiences that engage with SCAPE and I hope to speak to that complexity. What appeals to me about SCAPE is that you're contributing to a larger artistic landscape. You weave new artworks into an existing trail of art across the CBD so whatever I bring is in conversation with artworks that are already there.'
Rock: Paper: Scissors. SCAPE's Season 2019. Participating Artists
Audrey Baldwin (NZ), Ciaran Begley (NZ), Mary-Louise Browne (NZ), Conor Clark (NZ), Chiara Corbelletto (NZ), Judy Darragh (NZ), Scott Eady (NZ),Natalie Guy (NZ), Tyler Jackson (NZ), Sui Jianguo (China), Kazu Nakagawa (NZ), Neil Pardington (NZ), Susan Philipsz (UK), Kereama Taeoa (NZ), SCAPE's 2019 Legacy Artwork: Sēmisi Fetokai Potauaine, Vaka 'A Hina located in Rauora Park
IMAGES
Sui Jianguo Made in China, 2010, Worcester Boulevard and Oxford Terrace, Image courtesy of Pace Gallery and SCAPE Public Art
Wellington/Te Whanganui-a-Tara emerging artist Tyler Jackson's, Modulating Monolith 2019, a sculpture in acrylic glass, stainless steel and aluminium sited by SCAPE Public Art outside the Christchurch Casino, Victoria Street.