Blog
ArtBeat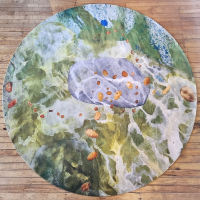 Dilana's artist and designer, Sudi Dargipour has recently been working with the paintings and designs of four women artists: Avis Higgs, (1918 – 2016), Daphne Mason (1928 – 2020), Bridget Bidwell and Sarah Anderson. Central to these new works has been the realisation that the subjects of the rugs she has translated into textile works are characterised by the predominance of stories. Dargipour is adamant that each artist's practice is about communicating numerous possible narratives and this is a distinctly feminine response, shared by many women artists: "The commitment to storytelling in their work invites comparison with the tradition of oral histories taking place at the margins of so-called formal or 'recorded' history that was dominated by the patriarchy."
Dargipour's commentary and observations are timely, coinciding with the recent public attention on Dame Robin White (Ngāti Awa, Pāhekā), an artist whose practice was predominant in 1960s and 70s alongside artists like McCahon and Hotere. White has also consistently focused her attention upon her generous "storytelling" about Pacific culture. Yet surprisingly, fifty years on her status as a national treasure has fallen away, the public largely unaware of her practice, an issue that to some extent is intended to be addressed through the survey exhibition, Robin White: TeWhanaketanga/Something is Happening Here, which opened in June at Te Papa.
Dargipour's emphasis is equally centred upon on the accessibility and bounty of the artists she is working with: 'One thing that they have in common is the range and diversity of their art practices, allowing you to dive in and read your own story in response. There is a freedom to it. They all have specific statements about their work but they all give you the opportunity to find your own story. Their work isn't constrained by more typically male artists whose work locates itself within a given and assumed narrative or formal context. (In contrast, there is greater attention by male artists to position their practice within a familiar or traditional arts hierarchy and that is about getting to another place within their career.)'
Avis Higgs' paintings have been the subject of Dilana rugs since the early 1980s, Dargipour emphasising that her designs remain contemporary in their style and look today. Higgs' designs have their origins in the Second World War, living and working in Sydney, and with fabrics and commercial inks from Europe out of reach, she adapted local dyes and fabrics instead. Design historian Douglas Lloyd Jenkins describes her influence as 'making a significant and original contribution to the development of Australian textile design…, [and then working from Wellington from 1948], developing new abstract designs based on Māori carvings and weaving (whatu), at the Dominion Museum, and floral prints and an iconography of native plants.' Dargipour says that she selected the current rug design by Higgs based on her Kowhai plant design as she wanted 'something new, (not the kowhaiwhai). The subject of the design is 100% not of a specific place, but there is an energy, movement and dynamism to it.'
Dargipour was impressed with a painting by artist Sarah Anderson in a pop-up exhibition held in 2021 at The Colombo mall in Sydenham: 'I didn't know the work was by Sarah, but I immediately thought this would look great as a rug. It looks like the sea to me and there is this wave in your face, and there are large cold colour forms but the composition is warm and welcoming. Formally it is like a dance.'
Anderson's work at Dilana is based on a series of ten paintings from 2021, titled Stonescape. She describes the subjects of these paintings as about rocks: 'They can be seen as simple and prosaic and yet they are immensely complex and subtle and usually utterly taken for granted; endlessly fascinating, containing so much accumulated information about time and travel, each tells its own unique story.'
Dargipour comments on the larger scale of Anderson's rug in relation to the small dimensions of her paintings: 'I've noticed that the women artists I work with are often surprised at the scale we work at; when the piece is transferred to a rug they usually ask: Is this okay? Male artists don't make that comment – they take it as given that their work should be big.'
Ōtautaha-based artist, Bridget Bidwill has exhibited throughout Aotearoa since the late 1970s, her commitment to modernism and geometric abstraction in paintings refined in its allusions to possible narratives. In recent work for Dilana, Dargipour recalls that Bidwell had contacted her about one of her paintings, in response to a request from one of her patrons,to have her work transformed into a rug: 'I still have that painting by Bridget. It is a pastel work and she didn't think it would translate all that well as a rug but the way that she put all the elements together in her work is traditionally very feminine. She uses this pinky-beige and that typifies her colour palette.'
Bidwill's colour sensibility has evolved over the past forty years, localised by the artist but, in a wider context , equally influenced by her enthusiasm for Renaissance fresco painting. She comments: 'One of my primary aims is to use the medium of painting to evoke feeling and thought. Just as instrumental and classical music needs no lyrics to create its atmosphere and meaning.'
Auckland artist Daphne Mason was tutored by A. Lois White (1903 – 1984) at the Elam School of Fine Arts in the mid-1950s and belongs to a generation of contemporary New Zealand artists that gained prominence in the 1960s. Mason was represented by Kees and Tina Hos at New Vision Gallery in the late 1960s, and gained further distinction in 1980 as a finalist in The Benson & Hedges Art Award, followed by a survey exhibition at the Sarjeant Gallery in 1984. Resident in London with her family from 1990, she exhibited in galleries that included the Frame Factory Gallery and Museum of Modern Art in Wales. Returning to Auckland in 2003 she was surprised to discover that she was now challenged to secure representation for her work, even though her commitment to painting remain central to her. Recognising her life-long commitment to European modernism, Dilana commenced crafting her paintings as subject for their rugs and textiles in 2019.
Dargipour recently completed a large-scale rug based on a painting by Mason for her late husband. 'She observed: 'The rug is an uneven shaped and uses lots of shades of gray, the curves makes it very feminine, and unlike the original work on paper by Daphne, her small painting has been scaled up. I recently sold one of her rugs, and was pleased to see it as a large work going into a large space.'
'My focus in 2022 is on a new series of women's rugs, it will feature new works by Anderson, Bidwell, Higgs, Mason, Lisa Walker, Elizabeth Thomson, and also recent graduate, Zara Dolan. Society has changed in many ways over the past decades but women artist are still not really represented in the canon as fully as possible. My interest and focus this year is definitely the work of women artists. Dolan's work is outwardly more masculine than the other artists but her colour range isn't and I like the challenge of working with more emerging artists. I enjoy working with them on new work of an intimate size to be scaled-up as a rug.'
DETAILS
Dilana Rugs, 102 Buchan Street, Sydenham
Monday –Friday 0am – 5pm and weekends by appointment
IMAGES
Avid Higgs, Kowhai D22, hand tuft/100% NZ wool, 1400cm x 200cm
Sarah Anderson, Stones of Escape, 2022, hand tuft/100% NZ wool,300cm diameter