Connexion at Orion Powerhouse Gallery Akaroa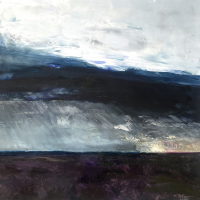 Paintings in oil and plaster by Kara Burrowes, sculpture by Paul Deans and mixed media works by Lynne lambert bring together three artists all with distinct titles for each series of works that could be construed as both solo exhibitions and, as the exhibition's title Connexion asserts, a group show with shared territories between its participants.
Kara Burrowes' ANX is made up of new paintings that sustain her ongoing interest in the region of Birdlings Flat, Banks Peninsula. Her response to the distinct nature and experience of its landscape is remarkable, seeming to locate us within its shoreline and weathered seascape. Yet, equally tangible is the encounter with Burrowes' materials; oil paint, plaster and canvas as entities possessing a reality all of their own, described by the artist as an overwhelming expansive landscape, her practice further alluding to a connection to Deans' Meditations on Death – and Life and Lynne Lambert's works in mixed media, Viewing the Viewer, Watching the Watcher.
Deans' Meditations on Death - and Life, encompasses new sculpture by the artist he describes as turning his musing to Kate, his late wife, 'not just to her loving of life but also to her embracing of death, when it came to call.' Deans further encourages a wider acknowledgment of this reality, inviting those who visit to 'touch these sculptures…. To let your hands explore, to connect, and to let your thoughts go where they will.'
Images of figures separate and possibly isolated, yet all sharing the same space and environment in Lambert's paintings reconsider the nature of digital technology and the ironic and contradictory relationships it occupies in all our lives. Lambert's images are taken from photographs by the artist over the past three years, initially asking questions about our obsession with mobile phones, selfies and the moment-in-time distancing that takes place in the process between us and those in close proximity. Enter Covid-19 and Lambert equally acknowledges the further dilemma of being aware of a shift or reconsideration of the mobile phone and digital media 'as a lifeline for family and friends.'
DETAILS
Kara Burrowes, Paul Deans and Lynne Lambert
Connexion
1 Rue Pompallier, Akaroa, Mon-Sun 10-4pm
15 January – 13 February
IMAGE
Kara Barrowes, Bankscape 3, 2022, oil paint and plaster on canvas