Blog
ArtBeat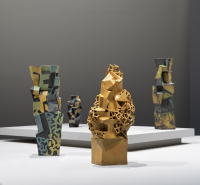 Cheryl Lucas: Shaped by Schist and Scoria brings a resonating atmosphere of resilience, revision, and regeneration to Christchurch Art Gallery Te Puna o Waiwhetū in August. This stunning survey, comprising of both new work and acclaimed favourites, follows Lucas's phenomenal four-decade career, from early years in Central Otago to education in Dunedin and studies abroad, and time spent teaching at Ara Institute. The esteemed ceramist now lives and works from her studio on the crater's edge in volcanic Ōhinehou | Lyttelton. Curated by Felicity Milburn, this exhibition realises a biography in significant installations, informed by landscapes physical and conceptual.
The precarious divaricating structures of Subterfuge echo hardy flora native to the station country of Lucas's farming childhood. Jutting from columnar roots, interlaced planes protect vulnerable interiors, entry points offering glimpses into the sheltering tangle, while angular points and edges, deter inquisitive browsers and unwelcome advances. Evasive and insular, this body of work responds to measures of isolation adopted during the global pandemic, navigating concepts of risk and protection.
The visual language of Lucas's rural upbringing is reimagined, earthy realities transformed in seductive surfaces to consider ongoing environmental concerns and climate anxieties. A cull of folded clay skins slump boneless over a wire fence, the stony pelts of invasive species. The distended cold-store provisions of award-winning Harder Larder cast long shadows - porcelain small goods, bladders, and vessels looming opulent and bloodlessly macabre overhead. Milkstock's assorted potion pots foam and pool, crust and curdle in veined swells and creamy glaze, a lavish yet uncomfortable excess which highlights the ill-effects of unsustainable dairying.
In the slick dark shade of liquefaction, the squashed pieces of Royal Muntin Ware Ref. No. 6.3/2011 are both humorous and heartfelt, a reminder of uncertain times and devastating loss following the Canterbury earthquakes. Shaped by Schist and Scoria articulates histories and narratives, personal, local, global, in contemporary ceramics. Objects foreground our inherent reliance and impact on the natural world, as we in turn are shaped and shaken by our environment.
Ever the innovator, Lucas's experimental practice challenges the possibilities of her medium, at ease in the unexpected and unpredictable. Forms are by turn liquid, jagged, unsettling, or unstable, conjuring the stone and shrub of Central Otago, or vibrant lichens and crumbly tuff of Canterbury's Banks Peninsula. The experience of this exhibition is elemental and changeful, grounded in the rhythms of rush and ruin, rebuild, retreat and reconnection.
DETAILS
Cheryl Lucas: Shaped by Schist and Scoria
Christchurch Art Gallery Te Puna o Waiwhetū
Cnr Worcester Boulevard and Montreal Street
27 August – 4 December
IMAGE
Installation view of Subterfuge by Cheryl Lucas, Christchurch Art Gallery Te Puna o Waiwhetū, 2022. Image: John Collie.