News
ArtBeat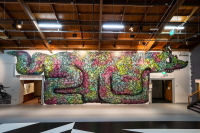 The moment Canterbury Museum packs out its collections, offices and resources in storage at the end of December, the empty Museum's spaces will be almost immediately transformed for a major exhibition of work by fifty urban artists for Shift: Urban Art Takeover.
Shift will occupy not only the Canterbury Museum's well-known display and exhibition spaces, but also take up residency over five floors of the building in 35 spaces that include its storerooms, corridors and offices. Shift is a unique event and exhibition, only possible because of the necessity to vacate the Museum's building for its redevelopment. Museum director, Anthony Wright emphasises that its temporary closure represents a unique opportunity. 'When we thought about emptying the Museum, we realised we would have this monumental blank canvas. It's an opportunity to do something even bigger than RISE, and to raise much-needed funds for new exhibitions in the redeveloped Museum' .
Urban artist academic and writer, Reuben Woods is curating Shift, bringing together a programme of more than 50 artists, made up of 3 to 4 international artists, 15 to 25 artists from throughout Aotearoa and local, Ōtautahi artists. Woods says that he is pleased to be bringing a local network of artists back here, including the likes of the DTR Crew - Dcypher, Wongi Wilson, Ikarus and Jacob Yikes'.
Woods comments that Shift represents a further step on for urban art from the Rise Festival in 2014, an opportunity for artists to reconsider, renew and extend the nature of their practice. 'The floor plan for Shift tells you that it is unprecedented in Aotearoa . There are some comparative examples of takeovers of large public spaces that go from large installation and smaller inbetween spaces and these include Art in the Street, the first major survey in 2010 in the United States at the Museum of Contemporary Art, Los Angeles is the most comparative model for the Canterbury Museum's project.'
The museum is an institution being turned over to the artists to make use of space that are not obvious. They include storerooms, basements, offices, corridors, open-plan spaces, lift lobbies and gallery spaces. Some of the artists are more fascinated with smaller and more quirky spaces. They have been challenged [previously to scale up and now, with Shift at the Museum, they get to scale down. There is the challenge and recognition that each room has its own history, purpose and items, objects that are relevant to its used past'.
'New works will evolve from the artists' responses to their location, the physical qualities, the room's purpose and the idea that there are certain items or stories that are distinctly part of the Museum's history, and these might include scientific knowledge and related items that have been used in the building. There is an opportunity for artists to create new stories, especially those who have grown up here and have an undoubted connection to the Museum'.
Planning is currently underway for artists to select spaces, conscious that some will need more time than others through most of January to complete their work. Woods maintains that he is encouraging artists to be open to collaborate with one another and consider other works that they might produce simply as part of being onsite. 'Festivals like Shift are vital in terms of experiencing new cultures and locations for making work. It is important to acknowledge that we have sourced a diversity of artists from a diversity of backgrounds and we want artists to explore ideas based around these contexts as well.'
'The Christchurch street will stay the same and so will a number of other long-standing spaces. For Shit they will still be familiar to visitors but for some people they may also do a double-take to discover new work in these spaces'.
'It is a significant task developing the planned route through the exhibition over four floors. We want it to be the best possible experience for artists and the public. We want the artists to leave, feeling that they have been part of something that is very special'.

DETAILS
Shift: Urban Art Takeover
Canterbury Museum
Rolleston Avenue
28 January – 11 April
IMAGE
BMD's untitled work for the Canterbury Museum's 2013 urban art exhibition RISE, which will be featured in Shift