Article
ArtBeat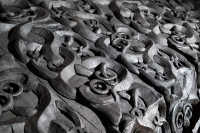 The Christchurch Art Gallery te Puna o Waiwhetū's summer season is characterised by an exceptional line up of new exhibitions, with sculptor, Brett Graham (Ngāti Korokī Kahukura, Tainui) working on an exceptional scale. Brett Graham: Tai Moana Tai Tangata brings together large-scale sculptures and expansive cinematic shorelines that assume absolute control of the gallery spaces, establishing an uneasy and uncomfortable feeling that it is the gallery visitor who is the 'other, ' and outsider seeking to occupy space with the assertive presence of each of Graham's sculptures and installations.
Brett Graham is one of Aotearoa's most accomplished sculptors, best known for large-scale artworks and installations that explore indigenous histories, politics and philosophies. Introducing the exhibition to visitors, lead curator at the Christchurch Art Gallery Felicity Milburn highlights 'the impressive sight of Graham's 9.6 metre carved kauri sculpture Cease Tide of Wrong-Doing, rising up beside the foyer staircase. 'Visitors will feel the power of this work as they enter the Gallery and carry that through to the other spaces of the exhibition. It takes the form of a niu, which in Pai Mārire ritual practice was used as a means for divine communication, forecasting the coming of war or peace.'
Brett Graham: Tai Moana Tai Tangata is the second venue for the exhibition, its origins in Graham's artist-residency in Taranaki in 2019, and its development in collaboration with the Govett-Brewster Art Gallery's curator, Anna-Marie White, Graham researching the history of the relationship between Taranaki and Tainui Māori, and 'the pact of solidarity they forged during the New Zealand Wars.'
Graham's sculpture commands the spaces that they occupy, evocatively insisting and commanding control and ownership of spaces previously given over to territory that refuses to accommodate or welcomes us. Rather it is occupied by strange and uneasy objects and spaces. History is fundamental to all of Graham's sculptures, O' Pioneer described by the artist as 'modelled on the gun turrets of the Pioneer, one of the armed streamers commissioned by the New Zealand Government to invade the Waikato in 1863…. A memorial to Victorian England,… elaborately embellished with a cast relief of ornamental pattern… [resembling] royal icing…. O' Pioneer commemorates the civility cultivated by Victorian England, a culture funded by warfare around the world and, in New Zealand, conducted against its own citizens.'
DETAILS
Brett Graham: Tai Moana Tai Tangata
Christchurch Art Gallery Te Puna o Waiwhetū
Cnr: Worcester Boulevard and Hereford Street
5 November – 19 February 2023
IMAGE
1. Brett Graham O' Pioneer 2020. Wood and plaster. Courtesy of the artist and Bartley & Company Art. Photo: Neil Pardington
2. Brett Graham, Maungārongo ki te Whenua, Maungārongo ki te Tangata (detail) 2020. Wood, paint and graphite. Courtesy of the artist and Bartley & Company Art. Photo: Neil Pardington.