Beyond the Glass at Chamber Gallery Rangiora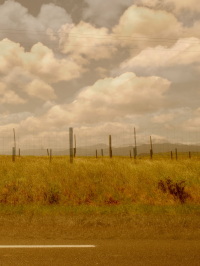 West Coast photographer, Thomas Heaphy's Beyond the Glass is an exhibition that he describes as 'an eclectic collection of images' on archival cotton rag. The pictures are taken from a broader body of work by the West Coast photographer. Loosely landscapes, both big and small, timeless and fleeting, they are painterly and ambiguous, creating a feeling of familiarity, yet otherworldliness.
Heaphy's landscapes place an emphasis on aesthetic grandeur rather than a recognition of place. The more abstract of his images are everyday microcosms and playful drive-by snippets. They feature natural elements with minimal man-made material and avoid clichéd juxtapositions and irony. Heaphy's intention is to paint with the camera and create a body of original work for contemplation.
DETAILS
Thomas Heaphy, Beyond the Glass
141 Percival Street, Rangiora,
10 May -3 June

IMAGE
Thomas Heaphy, For B the G, 2021, photograph