Article
ArtBeat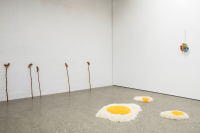 Steve Carr, Karl Fritsch, Jacquelyn Greenbank, Manon van Kouswijk, Richard Maloy and Lisa Walker, Over Easy
Writer
Tessa McPhee
The National brings together six contemporary artists to celebrate the joy of food and company. Over Easy is playful, slippery and metamorphic; reimagining kiwi breakfast classics and mealtime rituals to consider concepts of identity and community.
The exhibition foregrounds the associative pleasure of touch and performance, highlighting embodied acts of eating, of wearing, of sculpting - even that of commonplace routines like preparing our morning meal. Kitty-corner to Steve Carr's campfire Sausages on Sticks, comic in cinnamon-toned cherrywood, Jacquelyn Greenbank's Sunny Side Up eggs pool on the floor, becoming appreciatively tactile textile forms. There is a surreal yet beguiling logic to each revision; this is breakfast, but not as we know it.
Richard Maloy subverts our milk and honey expectations of butter, toying instead with its transformative materiality in As Many Structures As I Can Make. Here, matter-out-of-place is alien yet inviting. Playing upon the psychological draw in the gradual ooze and audible squish of this changeful medium, Maloy's films delight in a perverse sensuality.
Lisa Walker's Bretzen Pendant is a sensory experience of another kind, posing questions of wearability in its relationship to the body. Stuffed pretzel loops, alight with silk-winged embroideries, settle around the neck with an awkward grace. Generously proportioned, this ungainly pendant consumes the wearer in turn.
Absurdly elegant porcelain tablewares by Manon van Kouswijk are subtle, cutlery and egg-shaped vessels resonating with heirloom details, yet revel in the spirit of the moment. Set against the embroidered wine-stains of linen Tablecloth, these reflect upon food and artefacts as touchstones for narratives of community and connectedness, a catalogue of hospitality and polished conviviality.
Karl Fritsch's Toaster works call in a distinct local vernacular in his signature meeting of precious and utilitarian textures. Adorned in found stone, the trio engages with New Zealand traditions of contemporary jewellery-making, in patinas evoking an age and steadfastness. The intermittent metallic spring of these pieces punctuated the hum of the March opening, suffusing the gathering with gleeful anticipation as the audience shared in the activity of toasting sourdough bites-a giddy twist on the ritual of exhibition openings.
This exhibition feels at home within the intimate atmosphere of The National's contemporary space, so often animated with easy conversation over cups of tea. Over Easy is a whimsical yet thought-provoking treat, a study in snacking and sociability that is both polished and playful.
DETAILS
Steve Carr, Karl Fritsch, Jacquelyn Greenbank, Manon van Kouswijk, Richard Maloy and Lisa Walker, Over Easy
The National
249 Moorhouse Avenue
10 March – 10 April
IMAGE
From Left: Steve Carr, Sausages on Sticks, 2007, cherry wood, Jacquelyn Greenbank, Poached, 2021, mixed fibre, and Lisa Walker, Pendant, 2021, fabric paint, thread and stuffing. Photograph: John Collie