Article
ArtBeat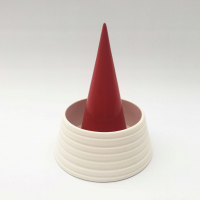 A New Zealand-based ceramic artist influenced by European design and art from the early 20th century, John Parker is an Arts Foundation Laureate acknowledged for his contribution to contemporary pottery. Continuum is a survey exhibition of his work opening at Form gallery in Sydenham in May. He details the work that will make up Continuum, both archival and recent works:
'My practice involves making bodies of work in series, which are usually shown in the context of an exhibition in which I continue to evolve new ideas, while revisiting and reinterpreting familiar themes. The exhibition of current work shown alongside past works is intended to show such thematic development.'
'The works from my archival collection include historical, pivotal, experimental oddities as well as Widows and Orphans, Waifs and Strays, which refer to the few pieces remaining from a show which no longer have their larger exhibition context but which may fill a gap within your collection.
My working methods and glaze information and videos explaining my work are on my website'.

DETAILS
Continuum – John Parker
Form Gallery
468 Colombo Street, Sydenham
8 – 28 May

IMAGE
1. John Parker, Red-White Penetration, 2021, porcelain