Article
ArtBeat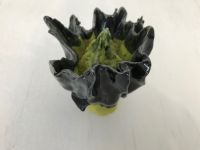 Opening 19 December at Art on the Quay in Kaiapoi, Remnants is a collaboration between Israel-born basket maker Tamar Guse and clay artist Jackie Saunders. Both describe it as an ode to the dawn of civilization where weaving and pottery were two of our first and finest art forms and the journey was as important as the destination.
Guse's sculptures and wall works incorporate natural elements like deer antler, pine cones and driftwood, as well as reeds dyed in brighter colours than those traditionally seen on woven baskets.
Saunders' ceramics are realised, using every possible technique to creates sculptures of flora, often referencing seed pods, ranging from white-latticed platters, reminiscent of fungi to small glossy multi-coloured seed heads. Saunders' distinct multicoloured glazes are achieved by firing and experimenting with gas or raku kilns, producing original and unique ceramics.
Remnants: 19 December to 22 January
IMAGE
Jackie Saunders, Untitled, 2019, ceramic